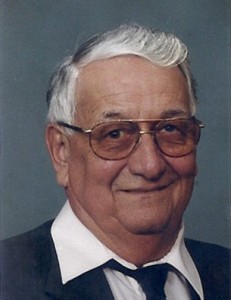 Andrew John Truccone, 81, of Santa Fe passed from this life on January 15, 2015 at his home.  He was born on September 16, 1933 in League City.
He was preceded in death by his parents, Bartolomeo and Domenica (Daro) Truccone and sister Mary (Truccone) Bartels.  He is survived by his loving wife Elizabeth (Teichman) Truccone: daughters Sophia Splawn and husband Chuck, Toni Rose and husband Robert both of Santa Fe: grandchildren Chevis Splawn and Joseph Rose: great granddaughter Chloe Splawn and nephew Raymond Bartels of League City.
Andrew was the son of Italian immigrant parents and grew up vegetable farming with them on Hwy. 3 in League City.  After that he managed a dairy farm in Arcadia for several years which was the last operating dairy on the mainland in Galveston County at that time.  He worked for Steelco / Sportsman Trailers for 35 years where most people knew him as "Easy".  Andrew had served as a member of the Board of Directors for the Galveston County Fair & Rodeo and in recent years had served on a few committees.  He enjoyed gardening/farming all his life.  The thing that mattered most to him was his family and his faith.  He was a wonderful husband and an amazing father. He was loved by all that met him.
There will be a rosary at 9:30am at Shrine of the True Cross Catholic Church in Dickinson with a memorial mass to be held at 10:30am Saturday, January 24, 2015.