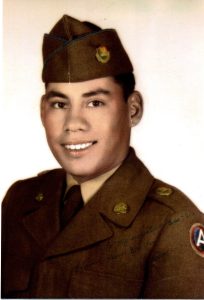 Andres Gaspar Aguilar (86), of Dickinson, Texas passed away on August 19, 2023, surrounded by friends and family.
Andres was born to Pedro and Genoveva Aguilar, on November 10, 1936, in New Gulf, Texas. He was born a triplet and shared his birthday with Arturo and Armando (deceased). He was an avid fisherman that frequented the Texas City dike with his 3 sons. After graduating from Boling High School Andres enlisted in the United States Army in 1956 as a paratrooper and helicopter crew chief.  Andres worked as a highly skilled machinist and retired in 1995 to care for his two grandchildren Ashleigh and Gabriel.  Subsequently, he enjoyed caring for his other two grandchildren Mia Aguilar and Rebecca Aguilar and his one great grandchild Brooklyn Thomas. He was a highly sought after babysitter for grandchildren, nieces, nephews, and anyone that needed a hand with their little ones.
He is predeceased by his parents, his sisters; Anita, Genoveva, Adela, Juana, Consuelo, and Connie; his brothers: Felix, Pedro, Jess, Santiago, Paul, Fernando, Armando, and Fred; and numerous other relatives and friends.
Andres is survived by his three sons and their wives: Andres and Yvette Aguilar, Gabriel and Cynthia Aguilar, and Raul and Monica Aguilar. He is also survived by his brothers Arturo and Julio.
Andres's family will host a funeral service on Friday, September 1, 2023, at 6:00 p.m. The service will be at Crowder Funeral Home in Dickinson, TX.