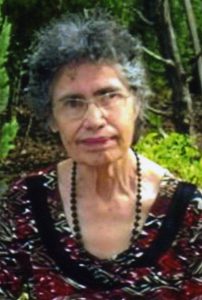 Amelida G. Arrazola, 82, of Dickinson, TX, passed away October 15, 2016, in LaMarque, TX.  Amelida was born January 1, 1934 to Rogacion and Olivia Garza in Robstown, TX. She was a custodian for the Dickinson Independent School District. Amelida was a loyal member of the Shrine of the True Cross Catholic Church since 1975. Amelida was preceded in death by her parents, and by her beloved husband Ramiro Arrazola.
She is survived by her sons Braulio Arrazola and wife Cynthia and Leroy Arrazola and wife Cristie; sister Irene Benavides and husband Joe; Grandchildren Mark Arrazola and wife Robyn, Bruce Arrazola and wife Sara, Joseph Arrazola, and Sarah Arrazola; great grandchildren Sebastian Arrazola, Jubilee Arrazola, Phoenix Arrazola, Julianna Arrazola, Jacob Arrazola, and Julissa Arrazola; and numerous other members of the Arrazola and Sanchez families.
A visitation in her honor will be held 5:00 – 7:00 pm, Wednesday, October 19, 2016, with a vigil service at 7:00 pm, at Crowder Funeral Home Chapel, Dickinson, TX.  A funeral mass will be celebrated 9:30 am, Thursday, October 20, 2016 at the Christian Renewal Center, 1515 Hughes Road, Dickinson, TX.  Interment will follow at Forest Park East Cemetery, Webster, TX.
The family of Amelida G. Arrazola wishes to thank the staff of Hallmark Hospice for their care and compassion.