Amanda Lynn Teague-Jordan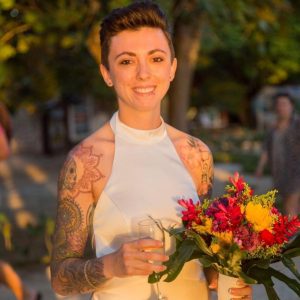 Amanda Lynn Teague-Jordan, 30, passed away on Tuesday, March at 8th 2022 in Nassau Bay, Texas. She was born on September 18th, 1991 in San Diego, California to Mark Teague and her mom Diane Teague. 
Mandy is survived by her wife, Tabatha; daughters, Sage, Loralie and Aila; sisters, Leanne Teague and Deanna Teague; brother, Lucas Teague, preceded in death by Mark Riley Teague; half-sister Antionette Pernicano; step-sisters Stephanie Cockrell and Jill Audette. Preceded in death by her loving grandparents Frances Tibbetts and Marshall Teague. Eight nieces, seven nephews and numerous family and friends. Her dogs Stormy, Riley, Aria, Tandeau and Luna. 
From her loving wife, Tabatha:
"What I love about Mandy:
Her humor

Her love for our kids.

Her effortless ability to take care of me. I'll miss our morning coffees.

Her smile and how her dimples were mine.

Her hugs.

How she dances with me and canceled out the world.

My "handy" Mandy.

My "handsy" Mandy.

I miss her eyes and the way she looked at me and right into my soul.

Her hands. Her beautiful hands and all their flaws. They were the most beautiful hands. 
One of my most favorite memories is during COVID I told Mandy how much I missed going out to dance with her. And just like everything else I might have mentioned or brought up Mandy would see a need and and opportunity to fill it. I came home one night and she had turned our livingroom into a dance floor complete with lights strung all over the room and a disco ball. We played music and danced for hours just the two of us. That was the kind of love, the once in a lifetime love, that she showed me regularly and she did it in a way that made me feel like the most loved and special woman on this planet."
Her parents would like to add: 
"Our Mandy was a true achiever and leader in life for those around her and she did it with so much love and intention. Whatever Mandy set her mind on she did it. When she played little league her little sister, Deanna, would always follow Mandy's lead. They were so close and always together that people just assumed they were twins. Even when Deanna got taller then her sister, Mandy still made it a point to always look out for her little sister and those around her. She never met a stranger and would give them the shirt off her back even before they asked. She has an intuitive trait in that she just knew when people were suffering and immediately set out to help them. She loved her daughters immensely, her nieces and nephews. All children held a special place in her heart and was especially determined to help them find the "special" in the day. She had such a gentle spirit and love for animals, especially dogs.  We know she's reunited with her grandparents that she was especially close to her and her brother Riley. We know they are in heaven celebrating and creating art together."
From her sister Deanna: 
"It's really hard to put into words who Mandy is. Mandy raised me and took care of me…just like she took care of everyone else. She had a magnetic spirit that drew you in instantly. She's literally never met a stranger and you always felt like an old friend. She was more than my sister. She was my soul-mate, my "mom", my best friend. She is my spirit animal. She was a force of nature that will never be duplicated."
From her sister Leanne:
"All I can do is love here and the world, emulate her by living with daring spirit and joy. I will look for her in the rainbows and see her smile in the sunshine ."
From a few friends:
"The first time I saw Mandy was at our kids school. I remember thinking "there's another tattooed mom". I was determined to make her my friend…just so happened our kids had already friended each other and came walking out of school together. Mandy was such a rad human being with a ginormous heart. I'm going to miss that sheepish smile that beamed when she got really excited. Those rib crushing hugs that made you feel like she was holding all your pieces together. Being called "honorary wifey" and being able to tell her I love her." – Summer
"We always joked about how Mandy and I were practically the same person. We said Tabby married the lesbian version of me. Her energy was incredibly contagious, she lit up a room and was the ultimate ice breaker. I have so many fave memories but  I'm so very grateful she got to meet Jude, that day will be engraved in my heart forever." – Kristin
"When one of for favorite people on this planet loves someone you just know to love them too. Mandy made that extremely easy. Tabatha introduced us and Mandy gave me a giant warm hug as if we knew each other since childhood. Over the years I watched Tabby grow into her true self with Mandy and they together became what my kids called the "cool couple" at my wedding. My favorite memory of Mandy will be her suave dance moves at my wedding reception. She was in the middle of a group of the gorgeous strong women in my life where we all decided collectively without words to step back and give her space to work that dance floor. That special time with her and Tabby was filled with laughter, love and happiness. When I think of her, I will forever remember that moment and treasure the time I had." – Nikki
"There is no one like Mandy. Her smile lit up the room. Her hugs could heal a broken heart. She was fierce in a gentle way. It was easy to feel at home in her presence. One of our favorite things about Mandy was how she could make us feel hosted in our own home. Never letting the cups empty or the sink fill. Not only her acts of service, but her kind words, generous support, listening ear, and although she wasn't very good at banana grams, she's was a lot of fun to play board games with. She is missed greatly and her memory will stay with us forever." – Matt & Kasidy
"The Office, Season 7, Episode 21, 20.46" – Britt & Chloe
There are so many people that love Mandy that we didn't get to include. We know Mandy is deeply loved and her love will be felt for lifetimes.