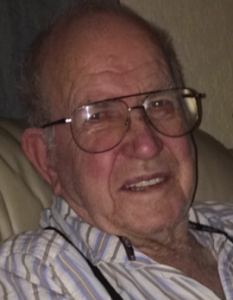 Alvin Roy Cloud, 85, passed away in his home on February 26, 2015. He was born on December 21, 1929. He lived over 50 yrs of his life in Santa Fe, TX. Mr. Cloud was raised in the Assembly of God, and worked at Ghinados from 1946-1960. He then went to work for Malones for over 30 yrs and retired there; he did leave Malones for a short while and went to the grain elevator, but then went back to Malones.
Mr. Cloud was all about his grandkids and great grandkids. He lived his life for them and would stop whatever it is he was doing too spend time with them, he was the type of grandfather that he could never say no to his grandchildren, he loved to see them happy.
Mr. Cloud is preceded in death by his wife Mary Cloud; son, John Doherty Sr.; his parents, Neal and Alice Cloud; sister Evelynn Couch and his brothers:, Tilford Cloud and Earl Humburg; grandchildren: Sherrie Doherty, John Doherty Jr. and Jason Doherty.
He is survived by his sister. Ruth Radler: grandchildren: John Doherty and wife Sue, Sean Doherty Sr. and Brandy Austin, Mark Doherty Sr. and wife Stacey; great grandchildren: Sean Doherty, Shelbi Doherty, Chasity Doherty, Kelsey Doherty, Jacey Doherty, Jason Doherty Skylar Doherty, and Mark Doherty Jr.
A visitation will be held on Tuesday, March 3, 2015 from 10- 12pm with a funeral service to begin at 12 noon at Maranatha Christian Church, 12310 FM 1764 RD Santa Fe, TX 77510. Interment to follow at Alta Loma Cemetery in Santa Fe.