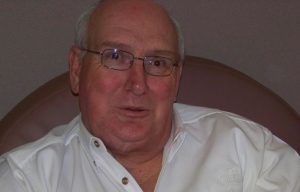 Allan Ray McCoy, 71, passed away peacefully April 6, 2021 at his home surrounded by his loving wife and daughters in League City, TX. He was born August 1, 1949 in Canyon, TX to Ray J. McCoy and Willa Dean McCoy.
When his nation called, he answered by joining the United States Army and served in the Vietnam War. He spent over 40 years in the oilfield, where he worked his way from a rig hand to upper echelon in various companies. He had a passion for golf, fishing and spending time with his family. He was always the life of the party, and all that knew him enjoyed being around him. He was a great friend, loving husband, father and grandfather, and will be dearly missed by all who knew him.
Allan was preceded in death by his father Ray J. McCoy, daughter Cindy McCoy, mother Willa Dean McCoy, father-in-law Jimmie Bradley and brother David McCoy.
Allan is survived by his wife of 47 years- Beverly McCoy of League City, TX; daughter Melinda Huff and husband Stephen Huff of Chesapeake Beach, MD; daughter Melissa Foster and husband Tony Foster of League City, TX; his 6 grandchildren whom he was so very proud of- Dakota Huff, Denver Huff and husband Steffen Klawitter, Dallas Huff, Dylan Foster, Amanda Foster and Travis Huff; his mother-in-law Anna Kate Bradley of Adrian, TX; brother-in-law Jeff Bradley and wife Brenda Bradley of Adrian, TX and many other loving family and friends.
A memorial will be held on Saturday, April 17, 2021 at 10:00 AM at Crowder Funeral Home, 111 E. Medical Center Blvd., Webster, TX 77598.
Flowers and/or memorial contributions are equally welcome. In lieu of flowers for those wishing to make a memorial donation in Allan McCoy's memory may do so to https://www.mdanderson.org/donors-volunteers/donate/honor-loved-ones.html