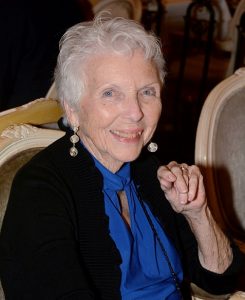 Alicia Casmus was born Alicia Gallagher on August 14, 1932 in Savannah, Georgia.  She was active in, and nourished by the Sacramental Life of St. Paul Catholic Church, and many religious organizations including the Legion of Mary, the Serra Club of the Bay Area and the St. Vincent de Paul Society. Alicia listed her Employer as God and her profession as Full Time Volunteer. On March 3, 2017 she retired to Heaven where she joins her parents, James R and Alice C (McCabe) Gallagher, her brother, John Henry, her husband, Mark Anthony Casmus and a daughter in law, Karen Casmus.  She will be missed by her five sons, James Mark, Anthony Morgan and his wife, Carol, Father Stephen Edward, John Damian and his wife, Laura and Paul Andrew; five grandchildren, Morgan and her husband, Ken Costigan, Jenny Casmus, Jonathan Casmus, Katy and her husband, Joe Hostman,  Jacob Casmus; and three great grandsons, Daniel, Mark and Andrew Costigan.
A visitation will be begin at 6pm Tuesday, March 7 followed by a Vigil at 7pm at St. Paul the Apostle Catholic Church, 18223 Point Lookout Dr. Nassau Bay, 77058.
A Mass will be held at 10:30am Wednesday, March 8.  Following the fellowship luncheon, Alicia will be laid to rest in the Mount Olivet Catholic Cemetery.