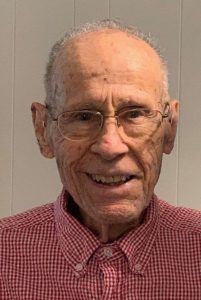 Alfred John Brouillard, 98, of La Marque, passed away Friday, October 1, 2021, at his residence.  Born September 19, 1923, in Galveston, Texas, to Ella (Perussina) and Ralph A. Brouillard, Sr.
He spent his childhood on the family dairy in La Marque, Tx. and graduated from La Marque High School in 1942. He then enlisted in the USMC and spent four years in the Pacific Theater during WW2 and participated in the capture of Guam and Iwo Jima. In 1946 he married his high school sweetheart, Patricia Coombs. They had four children. He was employed at and retired from Amoco Oil Co. in Texas City. During his life he was a member of the Knights of Columbus, a coach for the Girls' Softball League, enjoyed golf, bowling, and playing cards.
He was a lifelong member of Queen of Peace Catholic Church.  He is survived by his wife of 74+ Years, Patricia, three daughters: Peggy (John) Hopkins of Galveston; Nancy (Wes-deceased) Says of Willis; Jill (Jerry) Waggoner of Friendswood; and son Steve (Nancy) Brouillard of Early.   He leaves ten grandchildren: Steve (Kelly) Hopkins; Karen (Jody) Norris; Lindsey (Justin) Stone; Sheri (Ron) Emberton; Chris (Renee) Armacost; Paul (Angie) Armacost; Kelly Brouillard; Clint Brouillard; Shawna (James) Bunyard, and Zach (Nancy) Morreale. Also step-grandchildren Allison Embry, Jared Waggoner, Joseph Waggoner and Jonathon Waggoner. Also Great Grandchildren Braden, Jacob, Cody, Grayson, Wyatt, Abby, Bella, Parker, Hanna, Jimmy, Mia, Peyton, Cooper, Liya, Kascey, Clay, Jonathon and Holden.  Also surviving Brother Glenn Brouillard; sisters-in-law Ruby Brouillard and Emmy Lou Harris. Predeceased by his brothers Tom Brouillard and Ralph Brouillard Jr., Sister, Rita Goebel, sisters-in-law, Niki Brouillard and Helen Brouillard. He leaves many loved nieces and nephews.
A visitation will be held from 1:00pm to 2:00pm Wednesday, October 6, 2021, at James Crowder Funeral Home, La Marque. A service will follow at 2:00pm, at the funeral home, with Deacon John Carrillo officiating. Interment will follow at Forest Park East Cemetery, in Webster.