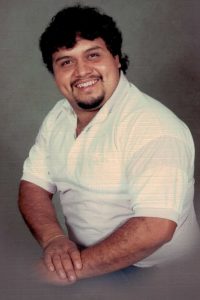 Alenjandro Briseno Sr., was born in Mexico on November 19, 1961 and passed away November 12, 2017 just a week before his 56th birthday. Alenjandro has been a Houston, TX resident since 1983 and worked for Sooner Container for over twenty-years.
Alenjandro is survived by his mother, Enedina Linares; daughter, Jessica Briseno and Jose Hernandez; son, Alejandro Briseno Jr.; grandchildren: Ezequiel Hernandez and Adan Tylor Hernandez; sisters: Olivia Burciaga, husband Pedro and Norma Briseno; brothers: Victor Linares, wife Juana, Hugo Linares, Jose Luis Briseno, wife Karen, Roberto Briseno, wife Lucy and Guillermo Briseno, wife Yolanda; numerous nieces, nephews and cousins.
Visitation will be Monday, November 13, 2017 from 5pm to 9pm at Crowder Funeral Home, 2422 Broadway Pearland, TX. Funeral service will follow at 7pm.