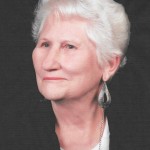 Alene M. Ganzer entered her Heavenly home on Thursday, August 25, 2016 in League City, Texas, at the age of 93 following a 2-year battle with acute myeloid leukemia.
She was born on April 22, 1923 to Heinrich August and Anna Marie (Drees) Bringewatt in Garden City, Kansas, the sixth of seven children.
Alene's early life was difficult.  She led the grim life of a Depression-era farm girl, and lost both of her parents before her teenage years were over.  At the age of four, she and her siblings were sent to live with a variety of nearby relatives.  When she was thirteen, she moved with her older sister to South Dakota to finish high school and work for her room and board in the Hot Springs Lutheran Hospital, where a strong sense of duty and work ethic led to her assignment as the hospital's office administrator at the very young age of 16.  She had a fierce desire for independence and to see the world, which led her to work in a variety of assignments in fascinating places during her single years:  war bonds sales at the US Treasury Department in Minneapolis, MN; secretarial support to the US Army Engineers in Panama and Okinawa; hospital administration in the Navy WAVES in New York; and court reporting/legal support to the USAF Headquarters in Japan, Guam, and Okinawa.  She was a true pioneer of women working outside the traditional confines of home and family – her professionalism and high standards of performance, along with that of other sterling pioneers of her generation, no doubt contributed to society's gradual acceptance of a wider variety of career roles and travel opportunities for women.
When she did marry a dashing young USAF pilot, Lieutenant Donald C. Ganzer, in September 1951, she worked outside the home for four more years until her first child was born, and from that time on, her young growing family received her total focus.  Over the next twenty years, the Ganzer household moved between many exciting Air Force duty stations and traveled extensively in both the USA and Europe, finally settling in Clear Lake City, Houston, TX, in 1967, a few years after Don's military retirement.  There, Alene continued to guide and serve as the Rock of Gibraltar for her three daughters during their tumultuous teenage years.  As they grew into self-sufficient young ladies under her gentle but firm hand, Alene's desire to again work outside the home led her to return back to work at Ellington Air Force Base, and then at the Department of Housing and Urban Development in downtown Houston.  In the late 1970s, she jumped at a chance to work at NASA's Johnson Space Center in the Spacecraft Software Development Division, and was quickly promoted to the head of the secretarial team for the Flight Directors' office of the Space Shuttle program.  Alene became their vital partner in determining best practices for documenting all aspects of the Shuttle program during its exhilarating and heady start-up years.  She was extremely proud of her integral role in the overall success of the Shuttle program, and drew upon all aspects of her previous career assignments and her innate common sense to successfully solve many challenging administrative hurdles the program faced.  Alene retired from NASA in 1989 after 27 years in civil service, and, in appreciation for her above-and-beyond dedication to ensuring the program's success, the Flight Directors' office appointed her an "Honorary Flight Director, Diamond Flight", an honor which has been presented to only a very few NASA employees in its history.
Alene's husband passed away two years before her retirement, but thankfully another great friend from her past, Jim Miller, re-entered her life soon thereafter, reigniting her desires to hit the road and together they embarked upon many adventures over the next couple of decades throughout the USA, Mexico, and Canada.  An avid bridge player, she also began playing again in earnest, serving in various officer positions in up to five bridge clubs at a time; she always said that bridge tables are where you find the kind of people you'd like to get to know much better.  She devoted more time to her other interests as well, including gardening, politics, and of course always her beloved daughters and their families.  In short, Alene's post-retirement life was full of family, friends, fun, and God's blessings too numerous to count.  Her departure from this earthly life has left a huge hole in our heart, but we rejoice knowing she is now with our Savior and that, when it is time, we all will be reunited again in our Heavenly Home.
She is preceded in death by her husband, Donald C. Ganzer, her parents, and all six of her siblings.  She is survived by her daughters, Donna Gerlaugh and husband John of Manassas, VA, Diane Ganzer of College Station, TX, Rene' McLaughlin and husband Dennis of League City, TX, and two granddaughters, Dallas Stark of Dallas, TX, and Brooke Hunter of League City, TX, as well as many loving nieces and nephews.
A viewing will be held at 9:30AM, followed by services at 10:30AM, on Thursday, September 1, 2016, at Gloria Dei Lutheran Church, 18220 Upper Bay Rd, Nassau Bay, Texas.  Following the service, she will be buried with her husband at the Houston National Cemetery, 10410 Veterans Memorial Dr., Houston, TX 77038.
In lieu of flowers, the family requests your consideration of a memorial donation to the University of Texas MD Anderson Cancer Center (https://gifts.mdanderson.org) or Gloria Dei Lutheran Church (www.gdlc.org/giving).  They would like to express their deepest thanks for all the wonderful medical staff, home care assistants, Gloria Dei volunteers and staff, and many other friends and family members who took such tender care of Alene in so many ways over the past many years.
Devotion to family, duty above self, kindness to others, and always trust in God.