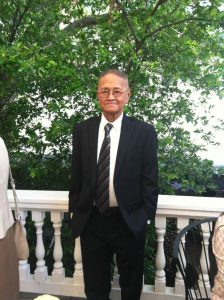 Agustin Sapnu Lansang, 81, passed away on June 12, 2018, in League City, Texas. He was born on May 5, 1937, in Manila, Philippines to
Jose Amio Lansang and Maria Sapnu Mangila. Agustin, fondly called
Gus, is survived by his wife, Cecilia Litimco Mamaril, his daughter
Alma Mia and son-in-law Kynn Knight, his son Basil, and his three grandchildren, Faith, Ethan and Summer. His brothers Ernesto and Carlitos Mangila also survive him.
Gus enjoyed fishing, watching the Rockets and the Astros, and above all he liked watching horse and dog racing. Gus studied at the University of Santo Tomas, in the Philippines and retired as a Certified Public Accountant in Texas.
Rosary will be prayed at Crowder Funeral Home in Webster at 7:00 p.m. on Tuesday, June 19, 2018. At 10:00 a.m. on Wednesday, June 20, 2018, a Mass will be held at Mary Queen Catholic Church in Friendswood, Texas. Burial will take place immediately after the Mass at the Forest Park East cemetery in Webster.