Adolph "Babe" Giusti, Jr.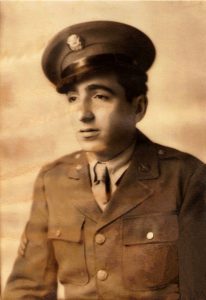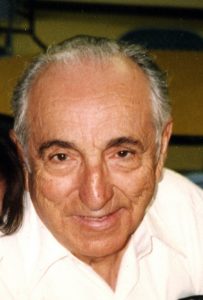 Adolph "Babe" Giusti, Jr., 96, was called home to his heavenly father on Wednesday September 14, 2016 in Pearland, Texas. Adolph was born in Bessemer Township, Michigan on August 5, 1920. His family moved to Galveston, Texas when he was just "a babe in mama's arms."
Adolph attended Sacred Heart Catholic School in Galveston. He went to work soon after in his brother John's restaurant, Giusti's Café. He also worked in his father's Little Brick Café and in a butcher shop. Babe prided himself with once being known as the youngest butcher in Galveston. When World War II broke out, he voluntarily enlisted in the United States Army in 1942. After being trained as a mechanic on the B17 Bombers, Adolph travelled to Snetterton Heath in England aboard the ship Queen Elizabeth I and was assigned to the 337th Bomb Squadron, 96th Bomb Group (H) AAF.  He often reminisced about his time in the service and the B17s he worked with. Babe was especially proud of being allowed to name one of the bombers which he dubbed "Galveston Gal."  He was commissioned with the Bronze Star in 1944 for "meritorious achievement in connection with military operations against the enemy as Maintenance Crew Chief in the European Theater of Operations." He was honorably discharged from the US Army as a Master Sergeant on September 15, 1945 and he was a lifetime member of the VFW, American Legion and Knights of Columbus.
Upon arriving home from the war, Adolph worked as a cashier in casinos during the years Galveston was known as the "Las Vegas of the South." When the Texas Rangers closed down the casino operations in Galveston, he embarked on a new career as a merchant seaman traveling the world on the seas for over 30 years. Some of his most colorful stories were about his life at sea. When Italian inspectors boarded one of his ships he was called by the captain to speak with them. They were impressed with his knowledge of Italian and he was proud to tell them he learned the language from his parents. Some of his biggest pleasures while at sea were studying the stars and constellations during his night watches and enjoying the great meals that were served on the ships and going dancing when in port. After retirement, he enjoyed island life on Galveston Island taking daily walks on the seawall, serving as an usher at several Catholic churches in Galveston – St. Mary's, Sacred Heart and St. Peter's, and hanging with "the guys" at the VFW.
Since having to leave his beloved island after Hurricane Ike in 2008, he has made his home with his niece, Debra Giusti Morgan, great-niece, Stacia Morgan Dunn and her husband David, and great-great, nephew and niece, Jack and Madelyn "Maddie" Dunn (his "Buddy" and "Little Doll.")
Adolph is preceded in death by his parents, Adolph Giusti, Sr. and Sofia Della Ruffa Giusti, his brothers and sisters: John Giusti, Elizabeth Serrano, Lillie Luciano, Benedict Giusti, Sr., Mary Fannie Bruce, Magdalena "Nana" Del Prete, and Ralph Giusti, and his brother in life, best friend, Joe Gutierrez.
He leaves behind numerous nieces and nephews, great-nieces and nephews, and great-great nieces and nephews, God-daughter, Diana Gutierrez Chide and many great friends. Babe was loved by so many and will be greatly missed. We love you Uncle Babe and miss you.
Visitation will occur on Monday, September 19, 2016 from 5pm-8pm (Rosary at 7:00pm) at Crowder Funeral Home in Pearland, Texas. The funeral mass in his honor will be on Tuesday, September 20, 2016 at 10:00am at St. Helen's Catholic Church in Pearland, Texas, and will be followed by burial at Mount Olivet Catholic Cemetery in Dickinson, Texas. Pallbearers will be Tony Cernosek, Benedict Giusti, Jr., Richard Giusti, Karl Bernard, David Dunn and Aaron Cernosek.
In lieu of flowers the family requests that donations be made to the Houston chapter of Camp Hope whose mission is caring for veterans suffering from PTSD. Donations may be sent to Camp Hope, 9724 Derrington Rd, Houston, TX 77064.