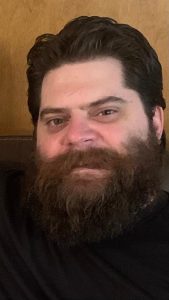 Adam James Pacetti, 37, passed away suddenly on October 26, 2021.  At the age of 17, and following 9/11, Adam decided to follow in his father's and grandfather's footsteps, by enlisting in the US Navy.  Upon completion of boot camp at Great Lakes Naval Academy in IL, he continued his military education.  He was an ET2 and served his country proudly for 6 years before being honorable released from active duty and transferred to Naval Reserve.  During his years of service he was honored with multiple decorations, medals and badges, including but not limited to the Navy and Marine Corp Achievement medal, Navy "E" Ribbon (4), Navy Good Conduct Medal, National Defense Service Medal, Afghanistan Campaign Medal, Global War on Terrorism Expeditionary Medal, Global War on Terror Service Medal, Sea Service Deployment Ribbons (2), NATO Medal, Expert Rifleman Medal, Expert Pistol Shot, Seabee Comat Warfare Specialist, and Enlisted Surface Warfare Specialist.
While in the Navy Reserve, Adam continued his education at UTMB, where he received his Bachelor of Science degree.  He began his career in Medical Technology in the greater Houston area.  He followed his dream and moved out West to Northern California to ride his motorcycle through the mountains.  He began his career with Ortho as Field Service Engineer.  Despite living his dream out West, when Adam's father became ill, he moved back home to Houston and bought his first home with the intentions of having his parents live with him so he could help care for them.  When back in Houston, Adam continued his career as a Field Service Engineer with Becton, Dickinson and Company (BD).
Adam is preceded in death by his Father, James Edward Pacetti.  He is survived by his mother, Gail Pacetti, and sister, Emily Pacetti.  He also leaves his Aunt Debbie and her husband Ken Slack and sons Dan and Ryan Wiener (Maddie), and his Aunt Stacey Hughes and son Brandon and daughter Hailey  Berg.  Adam loved and was loved by his cousins Wanda and her husband Charles Dudley, Terri and her husband Tom Hernandez, Drew Lytle and his wife Terri and all of their children and grandchildren on his father's side.  There are many more cherished family members, including Great Aunts, Uncles and Cousins from both within the US and in England – all whom he loved very dearly.
Adam made friends wherever he went and adored each and every one of them.
A memorial service in Adam's honor will be held on Sunday, November 7th, 2021 at Crowder Funeral Home, 1645 E. Main St, League City TX 77573.   Gathering will begin at 2:00pm
In lieu of flowers, those wishing to make a memorial donation in Adam James Pacetti's memory may do so to one of the following:
Uniform Services Organization "USO" at DonateUSO.org
PTSD Foundation of America at ptsdusa.org
ST Jude Children's Research Hospital at stjude.org