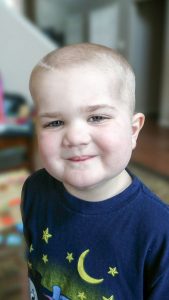 Miles Raymond Matthew, age 3 years 11 months, passed away at home on February 15, 2017 following a courageous fight against cancer.  A strong fighter, he thrived beyond anyone's expectations. Playful moments with his sister, Malia, riding his tricycle and scooter, swinging, driving his blue electric car, and getting to do those things he dreamed of one day growing up to be: a train engineer, a pilot, and an astronaut filled his final days.
On March 25, 2013, Miles came into this world with a smile that brought miles of smiles to all those around him. He willingly helped, no matter how big the task. He loved the color blue, trains, cars, and airplanes. The blue teddy from Grammie was by his side comforting him every day and every night through his fight.
His memory will live on with his sister, Malia, 5 years, his mother, Christie, and his father, Josh. He will live on in the hearts of his grandparents – Don and June Raymond, Chip and Kathy Matthew, his aunts – Julie Moffet and Erin Matthew, his uncles – Mitch Moffet and Ben Matthew, and his cousins – Ellie Moffet, Harlie Moffet, Sean Matthew, and Sam Matthew, and all his friends.
A visitation will be held on Wednesday, February 22, 2017 from 5:00pm to 7:00pm.  The visitation will be held at Crowder Funeral Home located at 1645 East Main Street, League City, Texas 77573.
A celebration of his life service followed by a reception will be held on Saturday, February 25, 2017 at 2:00pm. Miles' celebration of life will be held at Bay Harbour United Methodist Church located at 3459 FM 518 Rd E, League City, Texas 77573. Guests are asked to wear blue, Miles' favorite color.
Those who wish to support Burkitts Lymphoma research in lieu of flowers, should send donations on behalf of Miles Raymond Matthew to Texas Children's Cancer Center.  Send donations to Texas Children's Cancer Center attention of Lisa McCoy, 6701 Fannin Street, Ste. 1510.10, Houston, Texas 77030 (email: lkmccoy@txccc.org; phone: 832-822-4725).