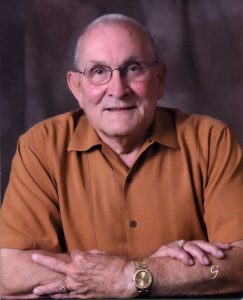 Gale Elton Van Hoy passed away January 2, 2017. He was born in Blackwell, Okla on November 25, 1933, to Archie and Etta Van Hoy.
Gale is preceded in death by his beloved wife, Doris "Teenie" Van Hoy, parents, father, Archie Clifford Van Hoy, and mother, Etta Irene Shurtz Van Hoy of Newkirk, Oklahoma, brother Dale Hudson Van Hoy, and nephew, Roger Dale Van Hoy of Houston.
He is survived by nephew Ronnie Van Hoy and wife Debbi of Lake Tapps, WA, niece, Vicki Van Hoy Webb and Husband Mike Webb of Arkansas City, KS, nephew Jay Van Hoy and wife Lyn of Pearland, TX, and numerous grand nephews and nieces.
Gale was involved with the Texas AFL-CIO, the Texas Building and Trades of Austin, and the Houston Building and Trades of Houston, Texas.  He was a member & licensed as a Boxing Official in Texas and most states in the US.  He was also a member of the North American Boxing Federation (NABF), Canada, Mexico, and U.S. In addition to these credentials he was part of the World Boxing Council of Mexico City, who assigned him to the World Championship fights throughout the world.  In that he was a Golden Glove Boxing in his youth which became a catalyst for his love of the Boxing World.  This led him to judge many boxing matches and along with his wife traveled to many "boxing trips" and had devoted friends all over the world.  One of the many memories is of meeting President Reagan at a conference in Washington D.C.
In lieu of flowers, donations can be made to the Galveston County SPCA.  A Memorial Service will be held on Saturday the 7th of January at 2:00 p.m. at Crowder Funeral Home in Dickinson, TX.