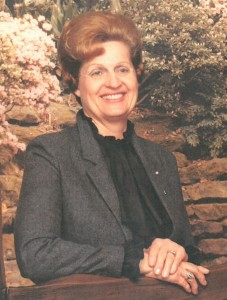 July 15, 1931 – February 16, 2016
Cherished Edna Hasserd, age 84, of Texas City, passed peacefully into eternity to Her Lord Jesus Christ on February 16 in New Braunfels, TX. Edna was born in Schulenburg, TX in July of 1931 to Jerome and Sophie Korenek.
She was preceded in death by her parents; sisters, Agnes Niemeyer, Georgia Capell and Josphine Korenek and her brothers, Alfred Korenek and Jerome Korenek.
Edna is survived by her husband of 65 years, Richard Hasserd; four daughters and their husbands; Cecilia Patterson and Kenneth of Texas City, TX, Patricia Schneider and Roy of Waller, TX, Theresa Hodges of Texas City, TX and Laura Pinto and John of New Braunfels, TX; two sons and their wives; Richard Hasserd, Jr. and Robin of Sanger, TX and Kenneth Hasserd and Teresa of Lumberton, TX; sisters; Frances Korenek of Schulenburg and Anne Draskovich of Springfield, MO and brother; Ivan Korenek and wife Ruby of Tomball, TX; twelve grandchildren and three great-grandchildren. Edna never knew a stranger and will be remembered fondly for her selfless service to family, friends and as a member of St. Mary's Altar Society and as a State Director for KJZT Catholic Family Fraternal of Texas for 20 years. She will be greatly missed but her memory will fill our hearts forever.
Visitation will be held at James Crowder Funeral Home, 401 Texas Avenue, La Marque, TX on Thursday, February 18, 2016 from 5:00pm – 8:00pm with a Rosary and Vigil at 7:00pm. Funeral Service will be held at St. Mary of the Miraculous Medal Catholic Church in Texas City 10:00am on Friday, February 19, 2016. Burial will follow at Galveston Memorial Park in Hitchcock, Texas. The family extends gratitude to the nurses and caregivers at Eden Hill Communities in New Braunfels, TX for the compassionate and loving care provided to Edna.