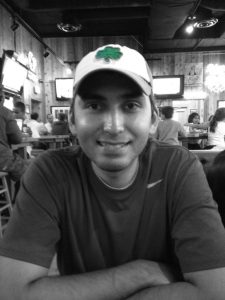 Fighting a long battle against pancreatic cancer with a courageous dignity, Alejandro Antonio Gammon, aged 41, was returned to his merciful Heavenly Father in the early hours of Friday morning, September 30, 2022, surrounded by his loving family in the comfort of his home. Always serving his community and recognized at work as a "leader, friend, and dependable colleague," Alex led a Plant Protection and Quarantine team of the Houston office of the US Department of Agriculture. Raising his four children with his loving and dedicated wife Nancy in League City, Alex, formerly of Laredo, Texas, will always be loved by his family as a doting father and supportive husband. His parents David and Carmen will forever cherish him as the most thoughtful and selfless son one could ask for. Alex enjoyed spending time outdoors whenever he could- biking, hiking, and playing basketball.  A die-hard fan of Notre Dame and all Houston teams, he was fond of watching football, basketball, and baseball. But more than anything in this world, Alex loved watching his two eldest children Ceci and AJ run cross country and play basketball, and his two youngest children Natalie and Gabby play basketball and softball. Alex is survived by his wife Nancy Gammon Zamora, with whom he shared eighteen loving years of marriage; his four children Ceci (aged 17), AJ (aged 15), Natalie (aged 11), and Gabby (aged 8); his parents David and Carmen Gammon, who savored every moment of watching him grow from such a good boy to the strongest of men; his sisters Carmelina Gammon-Salinas and Angela Gammon-Nolen, who persist in their affection for him as their protective brother and lifelong partner in crime; and many aunts, uncles, cousins, nieces, nephews, and friends who carry him in their hearts as an essential foundation of the family, inspiring uncle, steadfast friend, and righteous good man. Alex is preceded in eternity by his Nana in the Mountains Concepcion Mitich, Abuelita Carmen Sanchez, and Grandpa Jose Sanchez. Visitation will be held on October 5, 2022, from 5:00 PM to 9:00 PM with the rosary from 7:00PM to 8:00PM at Crowder Funeral Home, 1645 East Maine Street, League City, TX 77573. Funeral mass service will be on October 6, 2022, from 10:00 AM to 11:00 AM at St. Mary of the Expectation Catholic Church, 1612 East Walker Street, League City, TX 77573 with Burial proceeding at Forest Park East Funeral Home, 21620 Gulf Fwy, Webster, TX 77598. Alex Gammon will be dearly missed by many.
Pallbearers: AJ Gammon, Jose Chapa, Marco Carillo, Mark Miller, Rafael Madrigal, Robert Tovar, Sergio Salinas, Will Nolen
Livestream link for the Vigil/Rosary on Wednesday October 5, 2022, at 7PM.