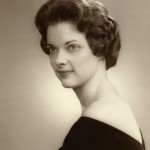 Elizabeth Ruckman Modlin, a long-time resident of Dickinson Texas, died Saturday the 1st of November at her home surrounded by her family. Her death concluded a 13 year battle with cancer.
Born on June 12, 1936 in Richmond, Virginia, Elizabeth "Betsy" was the daughter of David Van Meter Ruckman and Irene Lacy Ruckman. Betsy graduated in 1954 from Thomas Jefferson High School in Richmond, Virginia. She continued her education and received a Business Administration degree from Longwood College in 1958 where she was a member of Kappa Delta sorority. After graduating, she took a position as a secretary at Newport News Ship Building and Dry Dock Company. She met Clarence Thomas Modlin Jr., in late 1958, when he joined the NASA Langley Research Center, and they married in 1961. They moved to Houston, TX in 1962 as part of the transfer of NASA Manned Spacecraft Center.
Betsy's interests included playing bridge with "The Petunias", stamp collecting, baking and decorating cakes, socializing with wonderful friends and neighbors, and growing numerous flowers of which her favorite were bromeliads.
She is survived by her husband of 53 years, Clarence Thomas Modlin, Jr.; her sons Clarence Thomas III of Conroe, TX, David and his wife Tracy of Spring, TX, Glenn and his wife Rachel of League City, TX. She is also survived by her grandchildren Kyle Modlin, Katie Modlin, Brian Needham, and Kirsten Rogers. She also leaves sisters Ann Smith, Nancy Plunkett and her husband George, of Richmond, Virginia.
A visitation will be held Wednesday, November 5, 2014 from 5:00 pm to 7:00 pm with funeral services Thursday, November 6, 2014, 10:00 am at Crowder Funeral Home, Dickinson, Texas. Graveside service will follow at 2:00 pm, Forest Park the Woodlands, The Woodlands, Texas
In lieu of flowers, contributions may be made to Dickinson Beautiful,
2716 FM 517 Road E, Dickinson, Texas 77539.
The Crowder Funeral Home of Dickinson, Texas has been entrusted with arrangements.