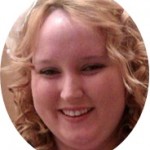 Caitlin Kay Howie was born January 7, 1991 in Temple, Texas. Caitlin walked into loving arms of her Lord and Savior, Jesus Christ on Thursday, October 23, 2014 at the age of 23.
Caitlin is preceded in death by her dearly loved great- grandmother, Lucille Rhodes, "Mama Lucy." Caitlin is survived by her mother, Kathy Kelly Howie of Friendswood, Texas; her father, David Howie; Her grandparents, Wanda and Dub Kelly and numerous other family and close friends.
Caitlin loved to learn and was excited about her future. She graduated with honors from the University of Houston Clear Lake in August 2012 with a Bachelor of Science in Psychology and Anthropology. She was determined to graduate early and she obtained her degree in 2 ½ years. She was an undergraduate tutor in statistics and psychology from 2011-2012. She was highly accomplished at her studies and was a member of several honors societies including Psy Chi International Honor Society in Psychology (2011); Phi Theta Kappa (2010); The National Society of Collegiate Scholars of San Jacinto Jr. College (2010) and The Psi Beta National Honor Society in Psychology for Community and Jr. Colleges (2010). She had aspirations to eventually obtain her Post Graduate degree in Psychology. Caitlin aspired to make the world a better place. She planned to dedicate her life to helping children lead better lives.
Caitlin cherished spending time with her family, her boyfriend and friends. She was compassionate, caring, loyal and always willing to listen. She looked for and she saw the best in other people. She loved to cuddle-up and watch movies, and listen to music.
She will be remembered for all the joy, happiness, and light she brought to our lives. She will be greatly
missed by everyone who knew her. Caitlin cared about many causes. In lieu of flowers, please make a contribution to your favorite charity.
Her memorial service will be held on Sunday, November 2, 2014 at 2:00 pm at The Crowder Funeral Home in Webster, TX. A private family interment will follow on a later date. Pastor Mike Meyers will officiate the service.
Caitlin brought so much joy to our lives and will live forever in our hearts.