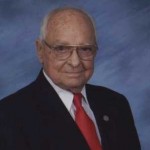 Clarence W. Roberts passed away peacefully at home on June 6, 2014. Mr. Roberts was born to Edward and Amy Roberts on September 26, 1918 in Texas City, Texas.
He is survived by his wife Modelle; son, William (Bill) and wife Gene Roberts of Kitty Hawk, N.C.
Mr. Roberts proudly served in the U.S. Army Air Force during WWII.
Visitation will be at Crowder Funeral Home in Dickinson, Tuesday, June 10, 2014 from 6 p.m.-8 p.m. Services will be at Crowder Funeral Home Wednesday, June 11, 2014 at 2 p.m.