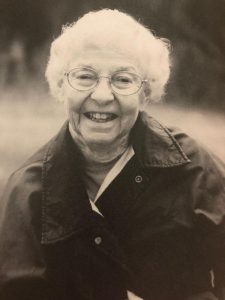 Naomi Ann Whitaker, age 93, was a long-time resident of Houston, TX. She was born on May 27, 1926, in Memphis, TN, which is also where she was raised and graduated from high school. Naomi married the man that made her smile every day and was her best friend, Joseph C. Whitaker, Sr. They were blessed with three wonderful children: Diana (Dee), Clayton (Clay), and Glen. The name "Naomi" in Hebrew means "pleasant," and that describes our Naomi to a tee! She had a God-given pleasantness that touched all who knew her. She was a cheerful and happy person with a contagious smile, a heart full of love, the quickest wit in town, and the greatest sense of humor. When her children were growing up, Naomi was able to be a full-time mom and housewife, a calling she embraced with all her heart. After the kids were grown, she worked as a nurse in the Clear Lake area. With a heart full of compassion to help people, she volunteered countless hours at her church, Meals on Wheels, and Interfaith Caring Ministries. In her free time, she loved playing all kinds of games with her family and friends. Naomi made sure her home was a place where all were welcome, all were loved, all were well fed, & all had a good time! Family get-togethers at the Whitaker home were the best! All of us – children, grandchildren, great grandchildren, and family friends – looked forward to those special gatherings at her home.
Whether it be Thanksgiving, Christmas, Easter, or some other special occasion, we couldn't wait to pull up into their drive and see that pleasant smile on Naomi's face. Because of her, we all knew, 'There's no place like home!'
Naomi is preceded in death by: her loving husband of over 60 sixty years, Joseph C. Whitaker, and her beloved grandson, David Andrew Whitaker. David's dear wife and widow, Alexis Joy, will always be a member of the Whitaker family.
She is survived by: her children-Dee Ward and her husband, Chuck; Clay Whitaker, and his wife, Heather; and Glen Whitaker; her 6 grandchildren: Matthew Ward and his wife, Shelley; Jenny Capps and her husband, Wes; Christy Ward; Jonathan Whitaker and his wife, Leslie; Joseph Whitaker and his wife, Sarah; Jeremy Whitaker. She is also survived by 6 great-grandchildren: Micah, Sarah, Wade, Alex, Katelyn, and Luke. In addition, she is survived by numerous relatives and friends.
A celebration of Naomi's life will be held July 18, 2019 at Clear Lake United Methodist Church in the sanctuary at 11:00 a.m., 16335 El Camino Real, Houston, TX 77062. In lieu of flowers, those wishing to make a memorial donation in Naomi's memory may do so to Meals on Wheels or Interfaith Caring Ministries.