Adelaide "Dell" Cecelia Schmalz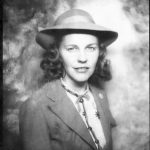 Adelaide "Dell" Cecelia Schmalz, passed away on August 11, 2018, at her home surrounded by family in League City, TX, at the age of 99.
She was born on April 2, 1919 in Subiaco, AR, to Wolfgang Linbeck and Catherine Rakl, where she grew up on the family farm during the Great Depression.
Adelaide was a devoted homemaker to her husband and treasured her family the most.  The biggest joys in her life were holiday gatherings with family.  She had a green thumb and grew sweet peas, she would bring bouquets of them when visiting family.  Dell and Eddie owned land in Waller where the family spent many summers weekends tending to the vegetable garden.   Dell enjoyed catering weddings and did so for several years.  Dell spent many years as a volunteer at the Crisis Center in League City.  She loved to travel and visit family.  Dell was a woman of great faith and raised her family as such.
Preceded in death by her husband Edwin Schmalz; her parents Wolfgang and Catherine Linbeck; her son Edwin Augustine Schmalz; her sisters Mary Gorrell, Agnes Linbeck, Monica Barnard, and Ann Walker; and her brothers Lawrence Linbeck, Alphonse Linbeck, Albert Linbeck, Leo Linbeck, Sr., Father Augustine Linbeck, OSB, and A.F. (Hooter) Linbeck.
Survived by her daughters Kathleen Eva and spouse George Morton of North Augusta, SC; and Mary Dell and spouse Chuck Barry, Jr of New Braunfels, TX; sons J. Edwin and spouse Sharon Schmalz of League City, TX; and John Joseph Schmalz of League City, TX; grandchildren Jason Morton and spouse Mariya Morar of San Mateo, CA; Jennifer Schmalz of Arlington, VA; Katie and spouse Mark Howison of Mansfield, MA; Chuck Barry III and spouse Meghan of Austin, TX; Jonathan and spouse Karen Schmalz-Benson of Clear Lake, TX; and Craig Barry of Austin TX; and great grandchildren Eva Alexandra Howison, Sofia Adelaide Lydia Morton, Grace Elizabeth Howison, and Annika Sunshine Schmalz-Benson, and numerous nieces and nephews.
There will be a Rosary at 7 pm on Friday, August 17, 2018 at Crowder Funeral Home, 1645 E. Main Street, League City, TX with a Funeral Service at 10 am on Saturday, August 18, 2018 at St. Mary's Catholic Church 1612 E. Walker Ave., League City, TX. Adelaide Schmalz will be buried at Forest Park East Cemetery 21620 Gulf Fwy, League City, TX 77573.