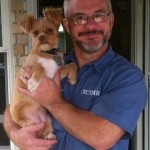 Billy Don Selman, Jr., 46 of Texas City passed away Wednesday, March 26, 2014 at his residence. He was born March 5, 1968 to Billy and Patricia Selman in Texas City.
Billy was an awesome baseball player growing up in the community since he was 8 years old. His fondest memories were playing for Amoco Yankees under the late Floyd Treadaway. As an adult, he mastered the crafts of do-it-yourselfers. He was a journeyman Electrician having worked for UTMB in Galveston in the maintenance department for 10 years he was proud of his work, striving for perfection and customer satisfaction. He was a member of the 1st Christian Church in La Marque.
He is preceded in death by his grandparents James and Eunice Karen Selman and James R. O'Meara, Sr., aunts, Terri B. O'Meara and Shirley Selman. He is survived by his parents Billy and Patricia Selman of Hemphill, grandmother, Bernice O'Meara, sons Billy Don Selman, III and Joshua Jacob Selman, sisters, Linda Karen Schultz and Andrea "Andy" Reyna Bozeman, nephew James Stephen Schultz, aunts, Maurice Selman Havard (Don), Leonardean Selman Tomlin, Anna Lucille O'Meara, Peggy L. O'Meara Flores and Pamela K. O'Meara Pixley; uncles, James "Nub" Selman (Laura), James Richard O'Meara, Jr. (Vicki), Daniel A. O'Meara, Sr., numerous cousins, family and friends and the mother of his children, Cheryl L. Selman. A special thanks to Kevin Regini.
Visitation will be Friday, March 28, 2014 from 5:00pm – 8:00pm at the James Crowder Funeral Home in La Marque. Funeral service will be 10:00am Saturday, March 29, 2014 at the funeral home with Pastor Tom Medlin officiating.
Burial will follow at Hayes Grace Memorial Park in Hitchcock, Texas.
Pallbearers will be Danny O'Meara, Sr., Kevin Regini, Chuck Loney, Jamie Selman, Trey Treadaway, and Ronnie Cortez. Honorary pallbearers will be James "Nub" Selman and James Stephen Schultz.
In lieu of flowers donations may be made to the American Diabetics Association.