Gregoria "Gertie" Garza Martinez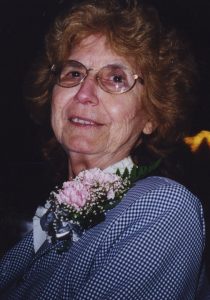 Gregoria "Gertie" Garza Martinez was born May 9, 1927, and was raised in the Booth area along with her parents and siblings. She married Marcos Martinez in Richmond, Texas. She and Marcos had eight children.
At one point, Gertie worked in an olive plant stuffing the pimentos in olives by hand. She spent 28 years working in the Dickinson Independent School District, where she was told she did a "very efficient job." She worked while raising her children, Marcos Jr., Irene, Gloria, Mary Anne, twins Ventura and Victoria, Delores and Theresa. She has 17 grandchildren and 18 great-grandchildren.
Gertie loved children and always had a houseful of neighbor children and nieces and nephews as well as her own children. In her later years, she had a special bond with her grandchildren and great-grandchildren. She was very talented with needlecraft, particularly embroidery and made many gifts for her family members.
She was preceded in death by her parents, Fidel and Gregoria Garza, her siblings Robert, Joaquin, Reuben, Pauline, Guadalupe "Ruby" Martinez, and Francis Martinez, and her husband Marcos, nephews, Rudolph and Ronnie Martinez, and niece Caroline Schultz.
She is survived by her brother Fidel "Del" Garza and his wife Marcy, brother-in-law Manuel Martinez, sister-in-law Pas Garza, children Marcos Jr. (Desiree), Irene Welschhans, Gloria (Andy) Burdge, Mary Anne (Dennis) Jones, Ventura (Rod) Rodriguez, Victoria Bellamy, Delores Gonzalez and Theresa Lundstrom (Rick), numerous grandchildren, great-grandchildren, nieces, and nephews.
Gertie was a beautiful woman inside and out, she had a generous heart and was dearly loved by so many. While she will be deeply missed on this earth, she is rejoining her family in heaven and will no longer be in pain.
A visitation will be held 5:00 – 8:00 pm, Thursday, September 21, 2017, with funeral services 10:00 am, Friday, September 22, 2017, both at Crowder Funeral Home Chapel, Dickinson, Texas.  Interment follows at Mt. Olivet Catholic Cemetery.