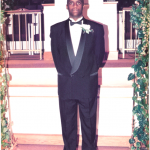 Michael Kennedy Yancy, 53, passed on February 26, 2014, in Houston, Texas. He was born on December 18, 1960, in Marshall, Texas. He was raised by a small village that included his mother Nell Faye Williams, his grandmother Fannie Yancy, his great aunt Lubertha Yancy, his aunts Glenda Brown, Barbara Tabor, and Brenda Jones.
Michael is survived by his wife Jacqueline Lovely Yancy, his son, Austin Kennedy Yancy, two sisters, Audrey Jenkins and Maria Yancy, two brothers, Courtney Williams, William Yancy and a very special cousin, Kelby Yancy.
Michael worked in the petrochemical industry for 32 years. He retired from BP January 2013.
A visitation will be held Friday, February 28, 2014, 7:00-9:00PM at Crowder Funeral Home – Webster (111 Medical Center Blvd., Webster, Tx 77598). The funeral service will be held on Saturday, March 1, 2014, at 12:00 Noon at Crowder Funeral Home – Webster. Mike's final resting place will be at the Forest Park East Cemetery (2160 Gulf Fwy, Webster, Tx 77598) with a reception to follow at the League City Church of Christ (1801 East Main St, League City, Texas 77573).