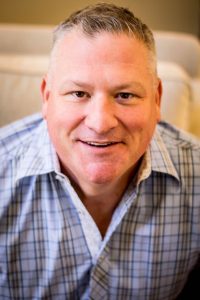 Kevan Michael Croghan was born on October 8, 1975 in San Juan, Puerto Rico and passed away on October 8, 2017 in Houston, Texas at 42 years of age.
Kevan was a phenomenal athlete. In his early years growing up on the west side of Houston, he was a competitive tennis player, ranked among the top twenty best players in the state of Texas. In college he worked as a tennis pro, but would soon be introduced to the game of golf, which became a life-long pursuit for him.   A true student of the game, he would eventually become a scratch golfer.  He was often seen on the golf course at Sienna Plantation Golf Club where he was a member, playing with family and friends.
During his studies at the University of Texas in Austin, Kevan was a proud 'Texas Wrangler' which afforded him the opportunity to make lifelong friends from all walks of life. Kevan would later graduate from the University of Houston in 2009, with a degree in Economics. The sun rose and set around his three precious girls. His quick wit, big heart and mischievously fun sense of humor will be sorely missed by everyone who knew him.
Kevan is preceded in death by his grandparents, James and Tommie Peterson.
Kevan leaves behind to cherish his memories his wife of thirteen years, Amy E. Croghan, father and mother, Capt. Mike and Sandy Wyllie, father and mother-in-law, Dr. Ronald and Carol Beberniss; daughters, Katherine Elena Croghan, Anabelle Elizabeth Croghan and Piper Emma Croghan; brother, Jason Croghan, and his wife Angela; nephews, Carter Croghan, Cameron Croghan and Andrew Shuster.
Funeral services will begin at 3pm on Saturday, October 14, 2017,followed by a gathering of friends and family from 4pm to 6pm in the chapel of Crowder Funeral Home in Pearland, Texas. Kevan will be laid to rest during a private graveside service to be held on October 16, 2017 at Mt. Olivet Cemetery in Dickinson, Texas.
In lieu of flowers, the family request memorials be made to the Go Fund Me page for Kevan's daughter's education fund, https://www.gofundme.com/girlscollegefund