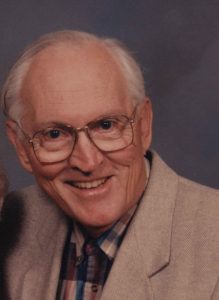 John Emerson Chappelear, 88, died peacefully at home on October 7, 2017. His wife of 62 plus years, Patsy Stallings Chappelear, and a daughter were at his side. He had four children – his daughters, June Elizabeth, Janice Elaine, Juliet Eve, and son Jack Emerson – anyone notice a theme? His plan was to name all his children with the initials JE so that when they reached a suitable age (probably 12); anything addressed to JE Chappelear (particularly bills) could just be handed to the closest child to pay. He had a rather witty and dry sense of humor. Born on February 13, 1929, in Enid, Oklahoma to Emerson Burns Chappelear and Edna Bertha "Ted" McCarty Chappelear, John was a toddler they moved to Tulsa, Oklahoma. A precocious child, John nevertheless did not speak until he was almost 4. When he finally decided to talk, he spoke in complete grammatically correct lengthy sentences. His mother figured he started to talk since he already knew how to read. He had a paper route while growing up and loved watching movies at the local movie theater. A voracious reader he devoured books like most people eat candy. John particularly loved reading the Bible as well as fantasy and science fiction. After graduation from Tulsa Central High School, John earned his B.S. from the University of Oklahoma in 1950 and was elected to Pi Mu Epsilon, Sigma Pi Sigma, and Phi Beta Kappa. He earned his M.S. in 1952 and PhD in 1954 in theoretical physics from Indiana University and was elected to the Society of Sigma Xi. He moved to Houston and accepted a position at Royal Dutch Shell and spent his entire professional career at the Bellaire Research Lab. In 1975-76 he was the exchange scientist for Shell E&P Houston with Shell E&P in Rijswijk, The Netherlands. He learned the Dutch language sufficiently well to participate in technical discussions in that language. On coming to Shell Development Company's Exploration and Production Research Center in Houston in 1954, John pioneered in the application of digital computation to problems of petroleum production and offshore engineering.  In particular, he developed a nonlinear theory of large water waves that was used extensively in the design of offshore production platforms.  His Chappelear Wave Theory is used to design platforms in the Gulf of Mexico.  His 1961 JGR paper is still cited in the API Recommended Practice 2A  for Planning, Designing, and Constructing  Fixed Offshore Platforms.  In addition, he led the Center's Mathematical Analysis Section for many years wherein he recruited many applied mathematicians and computer scientists for Shell.  In 1968, John joined a production research group that developed computer programs for reservoir analysis. John had the gift of being able to just look at the mathematical equations describing the problem, then write very efficient computer programs to solve those equations.
A sampling of his publications shows the wide range of his interests:
His Thesis: 1953 Bulletin of the American Physical Society, "Photoproduction of Mesons in Deuterium"
1959 Journal of Geophysical Research, "Wave Forces on Groups of Vertical Cylinders"
1966 I & E C Fundamentals, "Hydrodynamic Stability of a Fluidized Bed"
1974 Society of Petroleum Engineers of AIME, "A Model of Oil-Water Coning for 2-D Areal Reservoir Simulation"
In December of 1954, he asked Patsy to play duplicate bridge on one Saturday night; one week later, they became engaged and were married on February 14, 1955 at the First Methodist Church in Pasadena, TX. John was a lifelong and faithful Methodist and was active in the church throughout his life. His Methodist grandfather, Dr. Pearley Hedgeman Chappelear, baptized him. As an adult, his church membership from Tulsa, Oklahoma's First United Methodist in Tulsa, OK, moved as the family moved about Houston: St. Paul's , Gethsemane, Westbury, St. Luke's, and finally Clear Lake, all United Methodist. He loved international travel, languages and computers. Favorite family pictures show him reading to his small children as he modeled for them the love of reading. Many weekly trips to the library followed. John's passion for the performing arts was sated by attending, with Patsy, programs at the Houston Symphony, Houston Grand Opera, Houston Ballet, Stages and the Alley Theatres. What he loved most was the Lord and his wife Patsy, followed by his family and friends.  Every holiday was spent with family and friends. There was always room for one more at the dining table. John delighted in the accomplishments of his wife, children, and grandchildren. John is survived by his wife, the former Patsy Ann Stallings; daughters: June and husband, Bob Keller, Janice Chappelear, Juliet and husband, Mark Markovich; and son Jack Chappelear. Nine grandchildren also survive: Jonathan Sobieski and wife Dr. Angie Steinhart; Jason Sobieski; Justin Sobieski; Mitchell Keller and his wife Monica Davila Keller; Kathleen Keller; Janelle Markovich Snell and husband Patrick Snell; Ann Markovich Helm and husband Karl Helm; John Markovich; and Daniel Markovich. Great-granddaughters Jolie Sobieski and Jackelyn Sobieski and Madeline Keller were a delight for him and on October 10, 2017 his great grandson Jonathan Sobieski Jr. joined the clan.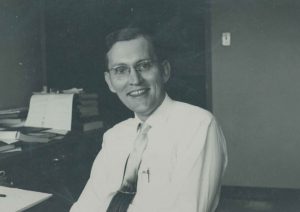 In lieu of flowers, the family requests contributions to Clear Lake United Methodist Church Building Fund or to a charity of your choice. A memorial celebration of his life, officiated by Reverend Charles Anderson, followed by a reception will be held at Clear Lake United Methodist Church, 16355 El Camino Real, Houston, TX 77062 on Saturday, October 21, 2017 at 11 a.m.  Men are requested not to wear a tie, in honor of John's memory. A private internment of his ashes will be held by the family at the Memorial Garden at St. Luke's United Methodist Church in Houston.