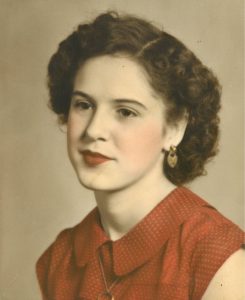 E.  Ruth "Cox" Kammer, 80, of Pearland passed away on Tuesday, May 16, 2017 in Alvin, Texas. She was born August 24, 1936 to Charles and Ruby Larrison in Bryan, Texas.
Ruth raised goats and was an avid reader, which her favorite was Gone with the Wind.
Ruth is preceded in death by her parents, Pastor Charles and Ruby Larrison, brother Charles Calvin Larrison, Jr. and son Brady Cox.  She is survived by her daughter Sherry McGuire and her husband Jim of Pearland, TX; three grandchildren: Brad Cox and wife Summer, James McGuire and Summer Neal and Tabitha Tucker and husband Joey and eleven great grandchildren: Steven Cox, Ariel Cox, Kyle Brady Cox, Chance Brooks, Tyler Winzenried, Ryan Winzenried, Madi Tucker, Bailey McGuire, Brynn Neal, Kaydn McGuire and Ashlyn McGuire.
A visitation will be at 9:00am on Friday, May 19, 2017 at the James Crowder Funeral Home in La Marque with the Funeral Service at 10:00am.  Burial will follow the service at Galveston Memorial Park Cemetery in Hitchcock, Texas.