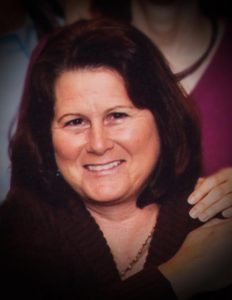 Claire Torres Ingalls was born February 20, 1962 in Morgan City, LA to Donald and Pat Torres (think: the Waltons).  She passed away February 13, 2017 at the age of 54.  After graduating from McNeese State University in Lake Charles, LA, she worked as an Ultrasound and X-Ray Technician at West Calcasieu Cameron Hospital until the warrants started piling up, and she was forced to leave town.  As a 10-year resident of Pearland, TX, she served as the reigning Ultrasound Princess for Houston Methodist Hospital with the best coworkers anyone could ask for. She was first and foremost a caretaker who never made friends, only collected new family members.
She was a wine-loving fairy godmother, hero to all, villain to none, carpenter, patient advocate, slayer of dragons, motorcycle momma, lover of animals, and everyone's rock.  She loved to improvise silly songs (like the time she dressed up as a candy cane singing "Lick Me" to the tune of "Memories" from Cats).  She built a 6 ft tall paper mache T-Rex for a school fair just because. She completed a Warrior Dash while waiting for the okay to have knee surgery.  Starting new projects was a passion, finishing them an afterthought.  Partying with her siblings in New Orleans was her favorite yearly tradition (obligatory "Who dat?").  She loved movies, being a personal Ms. Fix-it, and making amazing étouffée.  Her specialty was a perfectly (in)appropriately timed joke.
Claire leaves behind her daughter, Sam who has big (metaphorically speaking) shoes to fill.  Annette (husband Donnie), Lisa, Donald (wife Carla), and Fred (wife Rachel) now face the difficult task of picking a new favorite sibling.  She found a best friend and partner-in-crime in Laura Zeisig.  Nieces and nephews Becca, Brad, Katie, Sarah, Sydney, Symone, Thomas, and Alexis kept her hip with the times.  Great-nephews Peyton, Ethan, and Eli will carry on her antics.  Her grand-kitties Racecar and Thundercat and Best Pup Daisy will miss her cuddles.  Cali and Kitty will be happy to have someone to shed all over again.
Unfortunately, 20th Century Fox wasn't too keen on recasting for Weekend at Bernie's III, so there will be a memorial service beginning at 10:00am on Saturday, February 18, 2017 in the chapel of Crowder Funeral Home, 2422 Broadway Pearland, TX 77581.
Her absence leaves a void so dense, the resulting blackhole might actually wipe out the rest of us.  Until then, please make a memorial donation to a local charity of your choice in the spirit of all things Claire.