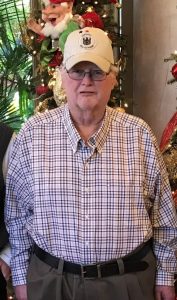 William Dewitt Oberkamp, Jr., 77, of Dickinson, passed away February 2, 2023, in Webster.  William was born January 17, 1946, in El Paso, Texas where he was raised by his parents Letha and William Oberkamp, Sr.  William supported his family as a truck driver in the oil fields for many years.  He will be remembered as a devoted husband, father, and grandfather.
He was preceded on death by his parents.
William leaves behind to cherish his memory his wife of 42 years Ruth Wright Oberkamp; daughters Kerry Robinson, Kathy Oberkamp, and Colean Brunner and husband Brendan; so William Oberkamp III; and grandchildren Christopher, Ruth, Dalton, Emma, John, and Joe.
In his honor, the family will be receiving friends 6:00 – 7:00 pm, Wednesday, February 8, 2023 with a memorial service at 7:00 pm, at Crowder Funeral Home Chapel, Dickinson.