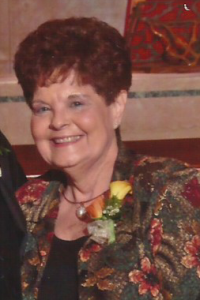 JoAnn Cucco Robinson, 83, of Dickinson, passed away Monday, April 18, 2022, in the comfort of her home surrounded by her loving family.  JoAnn was born June 28, 1938 to Joe and Mary Cucco in League City, Texas. She was a 1956 graduate of Webster High School in Webster, Texas.  JoAnn was a resident of Dickinson since 1967 and worked at Dickinson Medical Clinic for many years. She was a member of Shrine of the True Cross Catholic Church and member of the True Cross Women's Club.  As a heart transplant recipient of 27 years, she was one of St. Luke's Heart Transplant team's oldest surviving patients.
She is preceded in death by her husband, John Robinson; her parents, her brothers J.D. Cucco and Richard Cucco; mother-in-law and father-in-law Obed and Genevieve Robinson.
She is survived by her daughters Elizabeth (Stephen) Ginn of Dickinson and Judy (Ray) Skarbek of Houston; her two sisters-in-law Shirley Cucco and Joyce Cucco of LaMarque; sister-in-law and brother in-law Carolyn and Gary Garrison of Montgomery; two grandchildren Stephanie (Lupe) Vasquez and Colby Ginn (Niki Elvir); and two great granddaughters Addison and Oakley Vasquez; and numerous nieces, nephews, family and friends.
Visitation will be from 5-7pm, Monday, April 25th, at Crowder Funeral Home in Dickinson.  A vigil service followed by a rosary will begin at 7 pm with Father Jasper Liggio officiating.
A funeral mass will be held 10:30am, Tuesday, April 26th, at Shrine of the True Cross Catholic Church officiated by Father Larry Wilson.  Interment will follow at Mount Olivet Cemetery in Dickinson.
Pallbearers will be Stephen Ginn, Ray Skarbek, Colby Ginn, Lupe Vasquez, Wayne Cucco and Mark  Froebel.
The family would like to thank St. Luke's Hospital and Baylor Transplant team for the many years of care and assistance.
In addition, a special thank you to Vitas Homecare for their love and support.
In lieu of flowers, the family requests that memorials be made to the American Heart Association or a charity of your choice.