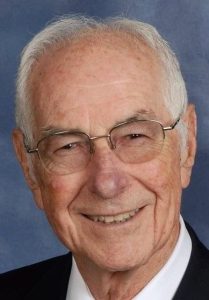 Fred Louis Menotti, 96, died peacefully on June 28, 2022.  He was a loving husband, father, grandfather, and friend to many.  His strong faith in God impacted many lives as it was reflected in his kind and generous nature.  He was an encourager that brought out the best in everyone he met.  His motto in life was, "the Good Lord will take care of us."
Fred was born in Dickinson, TX on October 13, 1925, to Fred Menotti and Assunta (Susie) Albonetti, both of whom had immigrated to America from Italy in the early 1900's.  After graduation from Dickinson High School, class of 1942, he briefly worked with his father in the family café business, Fred's Place, until he enlisted in the Army Air Corps in 1943.  Fred was a World War II veteran and served as a tail gunner on the B-17 Flying Fortress, with the 381st Bomb Group – 8th Air Force, where he earned numerous medals and citations.   He was also an active member of the Veterans of Foreign Wars and former Post Commander.
Upon his honorable discharge in 1945 and return home, he met and married the love of his life, Madelyn Trippodo on November 24, 1946, in Dickinson, TX where they lived their entire 65 years of marriage.  He returned to work with his father in the café until they sold it in 1952 at which time he went to work for Monsanto. He worked his way up to Supervisor and retired in 1982 after 30 years.
Fred's passion was his family and his faith.  He and Madelyn raised three children, Carolyn, Robert and Janet.  As a life-long member of Shrine of the True Cross Catholic Church, he served in numerous ways including Lector, Extra Ordinary Minister, and the Sponsor Couple program. He served on the Parish Council, Finance Committee and trained the Altar Servers, was property manager of the church and school property, and a proud Knight of Columbus for over 64 years.  Fred was a member of the Knights of Columbus Father Roach Council 3217 and a Fourth Degree Sir Knight with the Matthew H. Wilson Assembly 1988.  Beyond his church involvement, he was active in the Dickinson Volunteer Fire Department in the 1950's and early '60's, and was an avid gardener.  With his early retirement, he and Madelyn delighted in planning and taking many family trips for over 20 years, which have contributed to a lifetime of wonderful memories.
In addition to his parents, Fred was preceded in death by his beautiful wife, Madelyn, his sisters and their spouses, Rosie and Joe Palermo, Rena and Pete Trippodo, Lily and Harold Hays, Santina and Jimmie Mackey and a son-in-law, Brian Thorndike.  He is survived by a large family that he cherished:   children, Carolyn and Charlie Suderman of Dickinson, Robert and Kathy Menotti of Houston, and Janet and Ronnie Bussey of Longview, Texas.  9 grandchildren: Ken and Frances Suderman, Donna Suderman, Andrea and Danny Beohm II, Trisha and Daryl Krause, Jarod Thorndike, Jennifer and Nick Sigsbey, Kayte and David Keim, Aaron Bussey and Trent Bussey. 12 great-grandchildren: Forrest Williams and Kierston Upton (fiance'), Charlie Williams, Danny Marshall Beohm III, Brooklyn Beohm, Lily Suderman, Conner Krause, Scarlett Sigsbey, Grayson Keim, Madelyn Keim, Harper Keim, Hudson Keim, and Mika and Chris Adkins; and 4 great-great grandchildren, Leilani Waller, AvaLynn Waller, Kai Adkins and Kash Adkins.
Visitation will be held on Friday, July 8, 2022, at 5:00 p.m., with a rosary to follow at 7:00 p.m. at Shrine of the True Cross Catholic Church, 300 FM 517 Rd E. Dickinson, TX.  Funeral Mass will be Saturday, July 9, 2022, at 10:00 a.m. at Shrine of the True Cross Catholic Church with Fr. Larry Wilson officiating. Interment will be at Mount Olivet Catholic  Cemetery.  The Funeral Mass on Saturday will be live streamed for those unable to attend.
Pallbearers:  Robert Menotti, Ronnie Bussey, Ken Suderman, Jarod Thorndike, Daryl Krause, Danny Beohm II, Nick Sigsbey, and David Keim.
Honorary Pallbearers:  Forrest Williams, Charlie Williams, Danny Marshall Beohm III, Conner Krause, Grayson Keim, Trent Bussey, Aaron Bussey and Chris Adkins.
In lieu of flowers, please send donations to Shrine of the True Cross Church or School or charity of your choice.