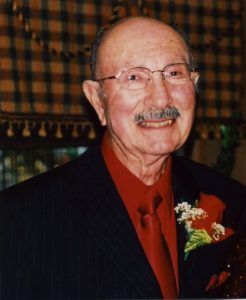 Roy William Bonario, 90, resident of Dickinson, Texas passed from this life Thursday, April 13, 2017, surrounded by his loving family.
Roy was born October 23, 1926, to proud parents, Willie and Pauline Bonario in Dickinson, Texas. He was a U.S. Army veteran, who proudly served during WWII and the Korean conflict. After leaving the Army he continued working for the government in the U. S. Postal Service for 38 years.
Roy was a member of the VFW Post 6378 and the American Legion Post 291, he was a faithful member of Shrine of the True Cross Catholic Church.
Roy leaves to cherish a lifetime of memories, his loving wife, Mary Nichols Bonario; his daughter Sophia Dee Arend and husband Jeffrey; a sister, Wilma Bonario Hogan and husband Eddie; as well as five grandchildren, Zachary and wife  Natalie, Rachael, Jacob, Jared, and Erica.
In his honor will be held a visitation on Tuesday, April 18, 2017 from 6:00 – 8:00P.M. with a Rosary at 7:00 in the Crowder Funeral Home in Dickinson, Texas with a Funeral Mass on Wednesday, April 19, 2017, at 10:00 A.M. at Shrine of the True Cross in Dickinson, Texas.
In lieu of flowers donations may be made in Roy's honor to:
Shrine of the True Cross Catholic Church, 300 FM 517 Rd. E., Dickinson, TX  77539 or Bayou Animal Service, 3120 Deats Road, Dickinson, TX   77539