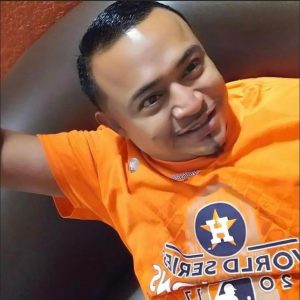 Wylliam A. Barillas, 45, of Houston, Tx passed away suddenly on November 23, 2022. His loss was completely unexpected and the family is shocked and devastated. They are taking solace knowing their beloved Son is with his Lord and Savior Jesus Christ.
Wylliam was born on June 24, 1977 in Guatemala to the proud parents Humberto Barillas and Elubia Barillas. He arrived to the US at the tender age of 3 and flourished in little league baseball from 4 years of age up until 13. He attended Clifton Middle School then onto Scarborough Sr High and proceeded to Eisenhower Sr High. During this time, he made lifelong friendships he cherished dearly. As a young man he held many titles from Marble Slab Associate, Patient Advocate at St Lukes Hospital to eventually meeting and working with his mentor and friend Mr. Jesse Benavidez, Master Electrician. Wylliam would go on to form All Lit Up Electric and work alongside Cesario Martinez, with CDC Services.
Wylliam is survived by his parents Humberto Barillas (Father) Elubia Barillas (Mother); siblings: Leslie Alvarado and Marlon Barillas; his nephews: Jonathan and Nicholas Alvarado; along with bother-in-law, Joseph Alvarado and Uncle- Juan Jose Galicia. He is also survived by many lifelong friends, cousins and his three dogs: Sasha, Duke and King.
To his family and friends Wylliam was the personification of unselfishness, compassion and loyalty. Wylliam had countless friends and co-workers he called his family. His infectious laugh, unmistakable smile and kind heart will be forever missed. He is irreplaceable and we are blessed to have been part of his life. We will remember him and love him always. He was taken from us way too soon.
A visitation service honoring Wylliam's life will be held at St Theresa's Catholic Church,6622 Haskell St, Houston, Tx 77007, on Wednesday, December 7, 2022 from 9:30AM-11:30AM with a rosary at 11:00AM. Funeral mass will proceed from 11:30AM-12:30PM. Burial to follow at Woodlawn Cemetery, 1101 Antoine Dr, Houston, Tx 77055 . Reception will conclude the Life Celebration at St Theresa's Fellowship Hall from 2:00PM-4:00PM.
Pallbearers will be, Jonathan Alvarado, Nicholas Alvarado, Cesario Martínez, Danny Soto, Kenny Redlon, and Adrian Noriega.
In lieu of flowers, donations can be made to, https://gofund.me/b098e820, an account set up to offset funeral costs and other expenses. (copy and paste the link)