Winfred J. Peoples, Jr. and Patricia Peoples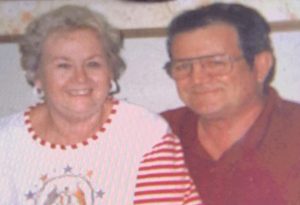 After a courageous battle with Covid, Winfred J. Peoples, Jr., 85, and Patricia Elizabeth Peoples, 88, of Texas City, TX, passed peacefully into the loving arms of Jesus on October 6, 2021 and October 15, 2021, respectively.
Winfred was born May 18, 1936 in Galveston to Winfred James, Sr. and Bernice Peoples and is survived by his sisters, Diane Peoples and Jenniev Odom. Patricia was born October 21, 1932 in Houston to James and Myrtle Gray and is survived by her brother, Jerry Gray.
In 1955, Winfred married Patricia, the love of his life. They were happily married for 66 years and created a beautiful life and family together.  They loved God with all their heart, took pleasure in the simple things, and lived for their family.  Winfred played the violin and harmonica. His folksy serenades were a highlight of family gatherings. Patricia demonstrated unconditional love to everyone.  She could often be found crocheting blankets for her children and grandchildren or cooking a large and delicious family meal.  Their favorite activity by far, however, was spending time with children, grandchildren, and great grandchildren – often during camping and fishing trips and family holidays.
They were preceded in death by their oldest son, Jimmy Peoples, whom they loved dearly. Left to cherish their memories and continue their legacy are their children: Kathy Peoples, Cindy Sukiennik and husband Hymie, Robert Peoples, Joey Peoples and wife Teri; grandchildren: Brian Sukiennik and wife Kassie, Justin Sukiennik and wife Alicia, Kimberly Sukiennik, Jeremy Peoples and girlfriend Lacey Murray, Donald Lee Moore and wife Megan, Jennifer Schiesser and husband William, Nicholas Peoples and Katie Peoples; and numerous great grandchildren and their many friends and other relatives. They will be missed, but never forgotten.
Their lives will be publicly celebrated at Crowder Funeral Home in Dickinson on Sunday, November 7th, 2021. The visitation will be from 1:00 to 3:00 PM with the memorial service beginning at 3:00 PM.
Masks are preferred.