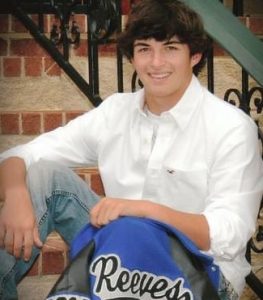 On Monday August 28, 2023, William "Taylor" Reeves, of League City, TX went home to his final resting place, at the age of 31. Taylor was born on June 29, 1992, in Lake Charles, Louisiana to Scott and Terri Reeves.
Taylor was a man who understood the true meaning of love. He had a vibrant personality and a way of making you feel special and at ease; he probably gave you a good laugh too. Taylor had a deep love for his family and friends and boy did he adore his nieces. He was an avid sportsman. He grew up on the baseball field where he excelled. He also enjoyed other sports such as football, basketball, fishing, and soccer, and was a faithful LSU fan. Another favorite past time of Taylor's was Fantasy Football, especially with his buddies. Taylor had a servant's heart and would help those in need whenever the opportunity would arise. He also had a great love and compassion for animals. Taylor was a true blessing to all who knew him. He had a kind and beautiful soul with the most radiant smile. He had laughter so big and bright it would light up any room.
Taylor is preceded in death by Grandparents Larry Reeves, Shirley Reeves, William Ishee, Joyce Ishee, Aunt Robin McDowell, Uncles Stephen Ishee, Rex Ishee, Rolf Herbstler, and Gary Rider.
Taylor is survived by his parents Scott and Terri, sister Summer and spouse Ben Duhon, sister Kylie Reeves, nieces Annevaeh Duhon, Mia Duhon, and Sophia Duhon, and many other family and friends.
The Viewing for Taylor will be held at Crowder Funeral Home, 1645 E Main St, League City, Texas 77573, on Thursday, September 7, 2023, from 5-9:00 pm with a Vigil Service at 7 o'clock and Eulogy to follow. A Mass to honor Taylor's life will be held at St. Mary's Catholic Church, 1612 E Walker St, League City, Texas 77573, on September 8, 2023, at 1:00 pm.
Taylor will be laid to rest at Consolata Cemetery, 2300 Country Club Road, Lake Charles, Louisiana 70605, on September 9th at 11:00 am.
In lieu of flowers, to honor Taylor the family asks that you support Tourette's Association of America, 42-40 Bell Boulevard, Suite 507, Bayside, NY 11361. Taylor was a giving man, one of his last acts was a donation to another in need.