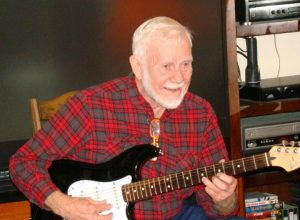 William 'Red' Hilburn entered his eternal rest January 16, 2020. Beloved husband of Carmen, who predeceased him, beloved father of Rus, Shaun, Kathy, Karen and Kelly, he will be dearly missed. Among his many talents were that of guitarist, fiddler, singer, woodworker, carpenter, tile layer and household repairman. Red was actively engaged in playing with bands as late as 3 years ago. He was employed at the Music Factory as salesman, music instructor and instrument repairman until recently forced to leave due to illness.
Red was born on his family's farm in Pleasanton, TX, 1931. He served honorably in the U.S. Army. His rank upon discharge was SP4. Afterward, Red was employed as a musician, radio host and telecommunications specialist for a Corpus Christi TV station. Upon moving to Houston with his beloved bride, Carmen, the love of his life, Red found employment with NASA in their telecommunications division. He was part of the team who broadcast the first moon landing in 1969.
Not one to consider himself 'too old' to experience new adventures, Red took flying lessons, though he was well into his eighties. Learning to fly had always been a dream of his. He considered this a milestone in his life, for it brought him unspeakable joy and pleasure.
Red will always be remembered for his soft and gentle persona, his subtle wit and Texas wisdom. Though he is gone in body, his spirit will always live on in the memories and hearts of those who knew and loved him.