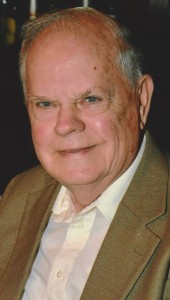 William "Bill" Marcus Speier passed away peacefully Thursday February 4, 2016 at Methodist St. John Hospital, in Nassau Bay, Texas. Bill was born and grew up in San Antonio, Texas, where he attended St. Mary's University earning a Physics degree.  He served as a Naval Reservist and later as an Army office in the Korean War.  After serving in the military, Bill worked in Ft. Worth, Texas as an engineer at General Dynamics, where he met his wife, Lavena "Shan".  In 1962 he joined NASA where he worked on the Mercury, Gemini, Apollo, and Shuttle programs, assisting with missions to put a man on the moon and international space exploration efforts with Russia.  During his nearly 50 year NASA career, he also worked for Rockwell and Boeing.
Bill is survived by his wife of 58 years, Shan Speier, and daughter Iris Speier Gallatin and her husband Roland Gallatin currently residing in Saudi Arabia, son Steven Bret Speier of Houston, and brother Joe Speier of  San Antonio, Texas, as well as host of other relatives and friends.
In lieu of flowers, the family encourages donations to The Boy Scouts of America, Troop 952, at 955 Gold Mesa Court, Houston, Texas 77062, in Bill's memory.  This is the troop in Clear Lake Forest. Bill and all of his brothers were Eagle Scouts.
Visitation will be held on Monday, February 8th from 6:00 pm – 8:00 pm with a Rosary at 7:00 pm at Crowder Funeral Home – Webster. Funeral Mass will follow on Tuesday, February 9th at 10:30 am at St. Paul the Apostle Catholic Church, 18223 Point Lookout Drive, Nassau Bay, TX 77058. Interment will be at Houston National Cemetery.