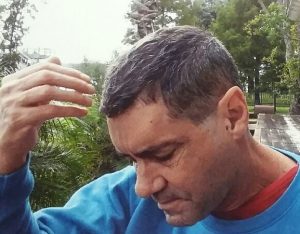 William Jeffrey Green passed away on November 9, 2022 in Beaumont, TX, at the age of 62.  He was born on January 26, 1960 in Port Arthur, Texas to Anna Ruth Green and William Bernard Green Jr.
Jeff grew up in Nederland, Texas and graduated from Nederland High School.   He was a resident of Stewart's House in Beaumont, Texas at the time of his passing.  He loved the residents and staff there, who loved and cared for him for many years.
Jeff's favorite hobbies were singing and playing the guitar, especially to any song by the Beatles.  He also loved bowling and taking any opportunity to have a Wendy's hamburger and a Frosty.  Jeff's heroes were people like Ghandi and Martin Luther King, as he was a huge proponent of non-violence.
Jeff is preceded in death by his mother, Anna Ruth Green, and his father, William Bernard Green Jr.   He is survived by his stepmother, Gloria Jean Green, his sister, Cynthia Ruth Mulkey, and his brother, Steven Roe Green (Constance), and by his nieces and nephews, Ryan Mulkey, Jordan Mulkey (Jessica), Reid Mulkey, Erin Mulkey, Nicholas Green, and Jennifer Green.
Jeff's memorial service and celebration of life will be held on Saturday, November 19th, 2022, at Crowder Funeral Home at 1645 E. Main St., League City, TX, 77573.  Visitation will be from Noon – 2pm, followed by the service at 2pm.  He will be interred at Rosewood Memorial Park, 2602 S. Houston Ave., Humble, TX, 77396.
In lieu of flowers, donations may be made to Stewart's Halfway House, 1395 Avenue D, Beaumont, TX 77701.
Online link: