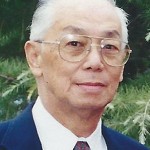 William Der Bing, Sr passed away on May 8, 2014 at Clear Lake Hospital, Webster, Harris County, Texas, while holding the hand of his beloved wife of 67 years. He is also survived by his 3 children, an expectant daughter-in-law, 4 grandsons, his sister and brother.
He was born on Sept 29, 1922 in Norfolk, VA.  His father owned a Chinese restaurant and married a tall, picture bride from the Big Island of Hawaii. They raised a family of 4 during the Great Depression.  During WWII, Bill, Sr enlisted in the Navy and earned his Navy pilot wings. To further his education under the GI bill, he attended Sacramento College and then met and married his beloved wife, Eleanor.  They raised 3 children. He returned to Virginia working for the U.S. Army as a civilian, while Eleanor worked for the Naval Supply Center.
In 1961, both Bill, Sr and Eleanor were recruited for positions at Lyndon B Johnson's new Space Task Group in Houston, TX.  Bill, Sr served as a Public Affairs Officer with NASA for 25 years.  He traveled the U.S. as a NASA spokesman and later was assigned to recovery ships on splashdowns in the Pacific Ocean. Notably, he was assigned as Deputy Chief of Special Events for Apollo 11 and Apollo 12 Presidential goodwill world tours.  He flew on Air Force One with mission astronauts and their wives and paid respects in 34 countries to heads of state, including Queen Elizabeth, the Pope and the Shah of Iran.  He continued in Public Affairs at the Johnson Space Center until his retirement in 1986.  
His life long community affairs included organizing new toastmaster clubs, member of the Chinese Baptist Church for over 50 years, member of the American Legion Post 596 for 45 years, and past president of Chinese American regional and national organizations, serving Asian interests.  He was a simple, honest man with a tremendous sense of wit and humor up to the day he died.  Everyone who met him was sincerely touched by his life.
Memorial service for William Der Bing, Sr will be held on Saturday, May 17, 2014 at 11:30a.m., at the Crowder Funeral Home Chapel 111 E. Medical Center Blvd, Webster, Texas 77598, 281-280-9000.
In lieu of flowers, the Family requests a donation be made In Memory of William Der Bing, Sr, to the Chinese Baptist Church, 900 Brogden Rd, Houston, TX 77024.