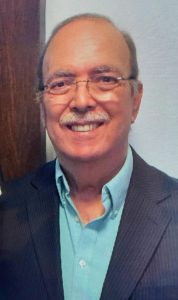 William Darold McDonald at the age of 80, went to be with his Lord on September 21, 2022. He was the only son born to Eleanor June and William Harris McDonald on February 14, 1942, in Shreveport, Louisiana.  After graduating from high school Darold joined the US Air Force and served until he was honorably discharged.  He studied political science at the University of Louisiana.  His career began in Houston, Texas, with NASA.
Throughout the period from 1974 until 2008 Darold contributed his great support and professionalism as Life Support Technician, to the following space programs: NASA flight operations, to which he was a key factor for the safe and successful missions flown by NASA astronauts and AOD aircrews. Apollo Soyuz  Test Project, participating in which Darold supported and contributed to the success of the first international manned space mission of July 15-24, 1975. Approach and Landing Test program, implementing ALT flights of the space shuttle orbiter "Enterprise". The First Assembly Mission of the International Space Station, when, launching from the Kennedy Space Center, Florida, Endeavour and it's crew of six astronauts joined Unity and Zaria together, the first elements of the International Space Station. They completed 185 orbits of the Earth, traveling 4.6 million miles before landing at the Kennedy Space Center, Florida in December 1998. Shuttle Program. Darold participated and supported this project from the start to its full completion with his best ability.
Darold married Tatiana Mokeeva in 2000.  Darold had a great interest in airplanes and in flying. He was a licensed pilot and dedicated most of his free time to flying.  He was very creative and enjoyed assembling musical instruments.  Darold was never satisfied by his achievements. He was always learning new things. After retiring he continued his career as a licensed home inspector and succeeded in it.  Darold was a devout Man of God. After meeting and marrying to Tatiana he became an Orthodox Christian.   Father Lubomir officiated a Memorial Service for Darold with his family and friends in attendance.
Services will be  10:00AM Thursday September 29,2022 at Crowder Funeral Home in League City; 1645 East Main Street, League City, Tx 77573. Burial will follow at 2:15 at the Houston National Cemetery located at 10410 Veterans Memorial Dr, Houston, TX 77038.
Families' florist is Kemah flowers located at 601 Kipp Ave, Kemah, TX 77565. Phone: (281) 532-6933