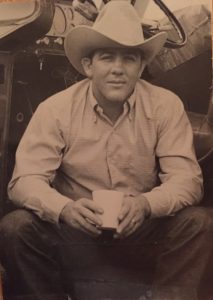 William Clayton "Billy" Greenlee was born October 27, 1942. Billy's younger years started off rough, but in spite of this he became an exceptional man. Billy spent his first 22 years believing he was born in 1943, but upon entering the Army he found out he was actually a year older and that his name was not "Billy William." He spent time in the Harris County Home for Boys in Clear Lake where his love for boxing and rodeo began. Billy raised and showed a cow that would go on to win the Houston Fat Stock in 1958. Also that year, he was the runner up in the Golden Gloves Fly Weight boxing division, and in 1960 he was the Houston Golden Gloves Open Feather Weight Champ. Billy went on to graduate from Milby High School in 1962 where he made lifelong friends. Billy enlisted in the Army serving as a Special Forces Aidman ("Green Beret") with training as a medic and paratrooper. Upon returning to Houston, Billy hit the rodeo circuit riding bulls. He later received a B.S. from University of Houston. He intended to become a teacher and coach, but found his calling as a master plumber and entrepreneur.
The true joys in Billy's life were his family and friends. Sandra and Billy married in 1964. He loved to tell the story about how the justice of the peace gave him a military discount and that it was the best five dollars he ever spent. In 1968, they welcomed Scott into the world. Billy loved being a dad and he was the greatest father a child could ever want. Before Scott was even walking, he was Billy's constant companion whether it be to job sites, hunting leases, fishing, rodeos, motorcycles races, and maybe even a few fist fights. He was fiercely proud of Scott and even prouder when he became Gramps to his namesake Will, whom he affectionately coined Meatball. Billy was an avid outdoorsman and enjoyed spending time with friends hunting Whitetail deer and dove in South Texas and Mexico. He loved Texas history, especially the Texas Rangers; and he had a remarkably keen eye for finding arrowheads.
Billy passed peacefully with his family by his side on February 27, 2020. He was preceded in death by his mother Mary, brothers Edward and Jimmy, sister Rosemary, and his beloved Uncle Frank, Uncle Tony, and Aunt Josie. He is survived by his much adored wife of 55 years, Sandra, son Scott, daughter-in-law Rozanne, grandson Will, who he was training to be the next featherweight contender, his dear cousin Esther, and his loyal dogs, Gracie and Ike, who guarded and watched over him in his last years.
It's impossible to encapsulate in words the spirit of a man who was so much larger than life. Despite his short stature, Billy's heart and life were as big as they come. He never met a stranger and if you were a friend, you were a friend for life. Billy's generosity was well known. He would literally give you the shirt off his back. His personality and smile brightened the room and warmed your heart. Please join the family to celebrate Billy's incredible life on Friday, March 6, 2020 at 2 p.m. at Crowder Funeral Home in Webster.