William "Bill" Louis Lehmann, III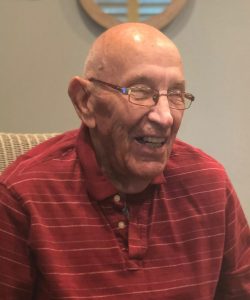 William "Bill" Louis Lehmann, III, 90, of Texas City passed away on Thursday, June 14, 2018 in League City.  He was born November 25, 1927 in Galveston, Texas to William and Elizabeth Lehmann.
Bill was a lifetime resident of La Marque and was formerly from Galveston.  He was a graduate from Ball High School Class of 1945. Bill served in the United States Navy during WWII.  He was a member of Trinity Lutheran Church of La Marque and the La Marque Masonic Lodge, and he was a former Little League Baseball Coach.
He is preceded in death by his parents.  Bill is survived by his wife Sammie H. Lehmann, and his children ; Susan and Kirby Meyer of Spring ,Terri and Bob Proch of Clear Lake, Allen and Joyce Lehmann of Friendswood , Debbie and Dick Stewart of Austin , and Charles and Yvonne Green of Georgetown , his twelve grandchildren and eleven great-grandchildren.
A visitation will be on Friday, June 15, 2018 from 5:00pm-7:00pm at the Crowder Funeral Home in La Marque.  Funeral Service will be at 2:00pm on Saturday, June 16, 2018 at Trinity Lutheran Church 2024 12th Ave La Marque Texas 77568-5704 with Dr. C.O. Magee officiating.  Interment will follow at Galveston Memorial Park in Hitchcock, Texas.