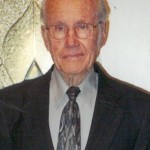 William "Bill" Gamblin, 83 of Texas City passed away, Tuesday, June 17, 2014 at his residence with his loving family by his side.
He was born July 31, 1930 to Monroe and Mamie May Gamblin in Sulfur Springs, Texas.
Bill was a veteran in the US Army serving in the Korean War receiving a Bronze Star and a Combat Medic Badge. He was a Heavy Equipment Operator with Local 450; he opened Gamblin's Air Conditioning in 1957 and retiring after 30 years of serving Galveston County. Bill flew Ultra Lights Planes and was a member of the RC Club.
He is preceded in death by his parents, his son William Gamblin, Jr., and brothers Avon and Kenneth Gamblin.
Bill is survived by his wife of 57 years, Lois Gamblin of Texas City, two sons and daughter-in-law John and Sharon Gamblin of Texas City and Bruce Gamblin of La Marque and one granddaughter Heather Lynn Gamblin.
Visitation will be Thursday, June 19, 2014 from 5:00pm to 8:00pm at the James Crowder Funeral Home in La Marque. Funeral service will be at 10:00am on Friday, June 20, 2014 at the funeral home with Minister Russell McLaughlin officiating. Burial will follow at Galveston Memorial Park in Hitchcock, Texas.
The family would like to thank the Faith Community Hospice for the care of their father and all of his close personal friends for their love and support.
Memorials may be made to the Galveston County Texas Animal Resource Center (SPCA) 3412 Loop 197 Texas City, Texas 77590.