William (Bill) Franklin Rumbaugh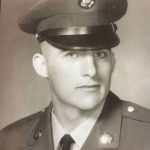 William (Bill) Franklin Rumbaugh, 68, of Great Falls, SC, passed away Monday, 2/27/2017 from complications of heart surgery. A highly decorated Vietnam combat veteran, Bill was very proud of his military service and his reconnection with his combat and service brothers.
Bill was born May 22, 1948 at home in the coal mining town of Dunbar Township, PA, the youngest of seven children of Franklin and Rose Rumbaugh. He spent most of his childhood years in Ohio where he developed his love of sports and the outdoors, and spent time growing up with his four brothers and two sisters.
In December of 1966, Bill joined the United States Army and proudly served in Vietnam with "A" co. 3/187 Infantry 3rd brigade 101st Airborne Division. Bill was highly decorated earning multiple badges and medals including the Bronze Star, Purple Heart, and Combat Infantry Badge. After serving stateside for a short period, Bill was Honorably Discharged in Sept of 1969 and returned home to Ohio.
It was in Painesville, OH, with then wife Barbara, where his three children were born, and he began his long career in the Petrochemical Industry. In 1976, after his plant was closed in Ohio, he moved his family to Friendswood, TX to continue his career in the booming Petrochemical Industry of the Houston, TX area. This is where he raised his family and called home for the next 31 years. His passion for sports was rekindled through his children and he often volunteered as a coach, rarely missing any of the children's events. His love of the outdoors led to lots of family camping trips, and many cross-country road trip vacations that were epic, lasting for weeks at a time.
After seeing his children go through college, begin careers, and start raising families of their own, he retired from the Petrochemical Industry in 2007. After reconnecting with his high school sweetheart in South Carolina, he moved there to a beautiful piece of land, out in the country in Great Falls, where together they enjoyed-bee keeping, kayaking, and tooling around in their Gamecock themed pontoon boat. Every year they enjoyed a standing vacation to Oklahoma to spend time with his veteran brothers at the "Rakkasans" Annual Reunion. He became an avid South Carolina baseball fan, but continued to root for his Ohio State Buckeyes and Texas Longhorns, and remained a longtime, tortured Cleveland Browns fan. Bill became lovingly known as "Paw Paw" to his six grandchildren and his loving partner Pam's four grandchildren.
Even though he could be stubborn and tough at times, he was also very loving and expressed his love in his own way. He loved to laugh, and his contagious sense of humor and clever sarcasm will be greatly missed by everyone that had the pleasure to know him.
Bill was preceded in death by his Brother John Ellsworth Bennett "Johnny", Brother James Buchanan Marshall "Jim", and Sister Elizabeth LaForce "Babe."
He is survived by his Loving Partner Pamela Ebert Slade; Daughter Cindy Marie Hughes and Husband Stacey Hughes, their children Jaden and Rylan; Son Eric William Rumbaugh and wife Holly Rumbaugh, their children Callie and Ryker; Son Kevin Paul Rumbaugh and wife Krista Rumbaugh, their children Austin and Makena; brother Ernest Jerome Marshall "Ernie"; brother Eugene Ellsworth Marshall; and sister Rose Irene Scott "Irene."
Bill is also survived by Pam's children Daughter Jessica Slade Roof and husband Jason Roof, their children Slade and Brooks; Son Joshua James Slade and partner Jason Southers; Son Julian Joel Slade and wife Amber Slade, and their children Sebastian and Silas and Many Nephews, Nieces, and Cousins
The Family will receive friends on Saturday, March 11, 2017 at 11:00am with a Celebration of Life Ceremony at 12:00pm at Crowder Funeral Home, 1645 East Main, League City, Texas 77573.