William "Bill" Donald Gibson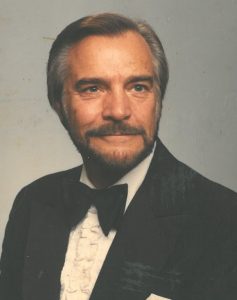 William "Bill" Donald Gibson, 89, a 6 year resident of La Porte Texas, passed away from complications of pneumonia on January 3, 2020.
Bill graduated from South Charleston West Virginia High School in 1947, where he was Senior Class President and played on the football team.  He then went to work at Union Carbide where his dad also worked.  He served in the U.S. Marine Corp during the Korean War and after being honorably discharged, as Sergeant, he moved to California.  He then continued working for the Union Carbide plant in Torrance, California.  He and his younger brother, John, then moved to Santa Monica in 1959.
Bill joined the Los Angeles Civic Light Opera and the National touring Company in the mid 1960's.  He toured for 2 years with "My Fair Lady".  He played in "Showboat", "The Merry Widow", "Oklahoma", "South Pacific", and "Prisoner of Zenda".  He worked for several musical theaters in the San Jose and Los Gatos areas of California and was very active in stage, TV, supper clubs, concerts and benefits for 25 years while managing several restaurants in Los Angeles and Beverly Hills.
He later took a job with K-Mart Corporation as District Food Manager and later transferred to Houston, Texas to manage the Southeast Texas area.  He moved to Houston as his home base and soon started entertaining nightly at "The Great Caruso, Opera Bar and Supper Club".  He starred in musicals for Houston's Theater Under the Stars (T.U.T.S.), including "Wonderful Town", "Gone with the Wind" and "Ninfa".  He later retired from K-Mart.
After meeting and marrying his wife, Pati, they pulled up roots and moved to Brookings, Oregon in 1991 to retire.  However, God had different plans for him and he kept busy with a few part time jobs until his daughter, Colleen was born.  He helped raise her while building his dream, a log home in the mountains.  There the 3 of them lived happily for 23 years, then decided to move back to the Houston area in 2013 to be closer to Pati's parents.
He will be lovingly remembered every time we hear songs he sang, especially, "Ghost Riders in the Sky" and "Mariah" from Paint Your Wagon.
Bill was preceded in death by his parents, Ivel and Marie Gibson, his older brother, Robert "Bob" Gibson and Bob's, wife Dora Jean.
Bill leaves behind his wife, Patricia "Pati" Gibson; daughter, Colleen Gibson; son, Bill Gibson; brother, John Gibson and his wife Judy; numerous nieces and nephews.
In lieu of flowers, please consider donating to your local community theater, high school or college theater program.