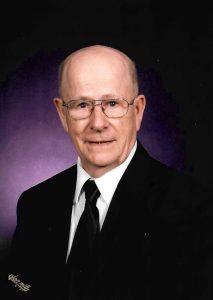 Wilbert Lee Jacoby (90) of Texas City passed away on Monday, January 30, 2023 in Texas City. He was born on February 3, 1932 in Huntsville, Missouri to William and Maggie Jacoby.
Wilbert was a resident of Texas City for 67 years. He proudly served in the US Army during the Korean War as a telecommunications specialist. Wilbert faithfully served the Lord as a member of Northside Baptist Church for 48 years. He retired from Amoco Oil as a Machinist, and after retirement, he skillfully serviced lawn mowers for his community out of his garage for many years. Above all, his family gave him the most joy.
A special thanks to the personnel of Bayou Pines Care Center for their loving care of Wilbert in these past few years.
He is preceded in death by his parents, sisters Joella Huntsman, Jennie Sue Sparks, and Sybil Bailey and brothers William Jacoby and Jimmy Jacoby. Wilbert is survived by his wife of 66 years, Bertie Jacoby, daughter Sharon Redd (Mark), son Ronnie Jacoby, sisters; Florence Bross, Ruth Haag, and Dorothy Laughlin, five grandchildren; Haeli Meeks (Jordan), Zachary Dillon Jacoby (Jessica), Whitni Crouch (William), Joseph Redd and Nathan Redd, (13) great-grandchildren; Ryan Jacoby, Caleb Brandon, Brookelynn Crouch, Wyatt Brandon, Lane Brandon, Hunter Jacoby, Brian Crouch, Jayce Cates, Garrett Jacoby, Ciara Duran, Jaime Meeks, Adriana Meeks and Sadie Meeks, family friends; Robbie Heneger and Jameson Parker, and numerous nieces and nephews.
A visitation will be on Tuesday, February 7, 2023 from 9:00am-11:00am at Northside Baptist Church 2801 N Logan St Texas City, TX with the funeral service at 11:00am. Interment will follow at Galveston Memorial Park cemetery in Hitchcock with Pastor Clay Bowers and Dr Mark Redd officiating.