WENDY LYNN (ELFSTROM) BARDWELL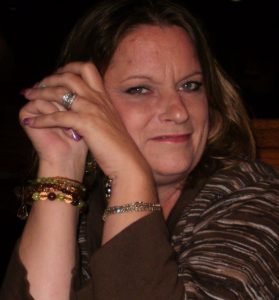 Wendy entered this world on January 3, 1974 as a gift from God and was placed in the waiting arms of Raymond and Deborah Elfstrom. She was met by her brother, Todd and later by her sisters, Gina and Christi. On Monday, October 30, 2017 our family, along with many other friends and family released her back into the waiting arms of our Heavenly Father.
Wendy married her high school sweetheart, David Bardwell. Early in their years of marriage, they were blessed with two daughters, Kaylyn Ann and Lauren Nicole. They went their separate ways in 2015.
Wendy loved life and met challenges head on giving them 100 percent of herself. She worked as a bank teller, a medical assistant, an ER clerk, and received her Peace Officer License in 2009. She spent 12+ years as a certified Animal Control Officer for the City of Texas City.
Wendy fought mental illness, namely, depression for many years, but found true happiness in her crafting, painting and gardening and had a very happy and positive attitude in the days just prior to her passing.
Wendy loved to play with her granddaughter, nieces and nephews and doing her crafts with or for them. She was witty and fun to talk with and held many conversations with her older nieces, nephews, cousins and other family and friends.
Wendy will be missed by her parents, her daughter, Kaylyn Bardwell (Fechai) granddaughter, Freya Kara Ogenio, and daughter Lauren Bardwell (Jake); brother, Todd Elfstrom, sister, Gina Elfstrom-DeLaCerda (Richie), children: Sean Elfstrom, Ashley Elfstrom (her children, Samantha and Konnor); Tyler Elfstrom; sister, Christi Nuygen (Quyen) children: Trevor, Chandler and Mariah Pickett; and Grandma Dodie, Dolores Boatman and many aunts, uncles and cousins.
Our hearts are broken but Wendy professed her faith in Jesus and was baptized by immersion when she was 7. We live by our faith knowing that we will see her again in heaven as God has promised us!
There will be a celebration of her life in the home of Ray and Debbie on November 19, 2017 from 3pm-6pm. In lieu of flowers, we ask that donations be made to the Animal Alliance in La Marque, PETA (People for the Ethical Treatment of Animals) or the Salvation Army.