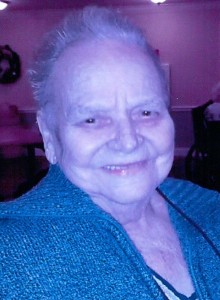 Wanda Lou White Surritt, 84 of Santa Fe passed away Wednesday, January 07, 2015 in Friendswood, Texas. She was born December 9, 1930 in Waco, Texas to Clyde and Homa White. Wanda grew up in Galveston and later in life moved to La Marque.
She retired after 40 years from Galveston News Agency as the Warehouse Manager.
She is preceded in death by her parents; sons David Baimbridge, Tony Buster Baimbridge, Jr. and brother Clyde D. White.
Wanda is survived by her daughter Rhonda Davis; son Terry Baimbridge and wife Sheila; five grandchildren; Tony Baimbridge, Tammy Nelson, Brandy Dees, Brandon Baimbridge, Jimmy Lee Boyd II, six great grandchildren and numerous close friends.
A visitation will be on Friday, January 9, 2015 from 5:00pm – 8:00pm at the James Crowder Funeral Home in La Marque. Graveside Service will be at 10:00am on Saturday, January 10, 2015 at Galveston Memorial Park Cemetery in Hitchcock, Texas with Rev. Tim Franklin officiating.