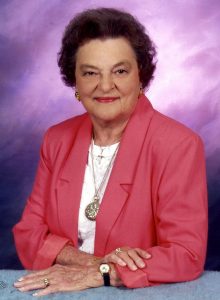 Wanda Lou Morris Baker
5/5/27 – 10/25/17
After a brief illness Wanda Baker passed away peacefully on Wednesday October 25, 2017, in Texas City, surrounded by family.
She was born on May 5, 1927 in Muskogee, Oklahoma and married Clyde Baker on September 23, 1947.
While working for Texas City Terminal Railway she lived through the Texas City explosion in 1947, and retired from there in 1989. She was a lifelong fan of the Houston Astros, and she loved her Texas Longhorns.
Wanda was a devoted member of First Baptist Church Texas City where she served in the food pantry and clothes closet.
She was preceded in death by her husband Clyde Baker; her parents Claude and Mamie Morris; her brother, Buddy Morris and wife Terri; and her brother, Pete Morris and wife Faye.
Her legacy lives on through her children: sons Kenneth Baker and wife Daphne of Brenham; Biff Baker of Santa Fe; Bruce Baker of Monroe, North Carolina; daughter, Kelly Baker Webster of Texas City; her grandchildren: Cari Baker Goeke and husband Brandt of Bellville; Jeremy Baker of Austin; Jennifer Baker Bagott and husband Lowell of Dickinson; Jamie Edwards and husband Dan of Texas City; Meredith Baker Richardson and husband Adam of Tampa, Florida; Hilary Baker of Fort Worth; Seth Baker and Rachel of Monroe, North Carolina; Austin Baker of Monroe, North Carolina; Kass Webster of Texas City; Kayleigh Abbott of Texas City; and numerous great-grandchildren, nieces, and nephews.
Visitation will be held on Friday, October 27 at Crowder Funeral Home in Dickinson, from 5 pm to 8 pm. Funeral services will be held Saturday, October 28 at 10:30 am also at Crowder Funeral Home, located at 851 F.M. 517 W and Hwy. 646 with Rev. Joe Giles officiating.
Pallbearers will be Jeremy Baker, Seth Baker, Austin Baker, Cody Beard, Jake Bland, Sara Sanford, Colin Goeke and  Hunter Bagott.
The family hopes you will celebrate Wanda's life in the style she loved by wearing your favorite sports themed apparel, especially if it's Astros or Longhorns. (Preferably no Dodgers, A&M or OU apparel. Just kidding.) If you don't have sports apparel, please dress comfortably.
In lieu of flowers the family request donations be made to the charity of your choice in Wanda Baker's honor.
Finally…Go 'STROS and Hook Em!!!